Opponents of both TTIP and CETA are taking to the streets, September 20, to protest against the secretive nature of the trade negotiations, which have been dominated by corporate lobbying. TTIP would create the biggest trade deal in the world, but many say it will hand powers to big business.
​One of the organizers of the demonstration in Brussels, Michel Cermak told Sputnik: "TTIP could destroy up to 600,000 jobs in the whole of Europe and CETA could destroy up to 200,000, so that's already a good reason to oppose them.
"Then there's the question about democracy and the fact that the treaties will basically allow giant companies — for instance those dealing in tobacco or pesticides, which are heavily regulated — to sue our governments for hundreds of millions of dollars. It is not up to big business to dictate our laws and rights."
Big Business v Governments
One of the major stumbling blocks has been over the detail of regulatory difference between the US and the EU. A common trade agreement requires commonality of regulatory issues. None is more important than food and farming — affecting what people put in their mouths.
Food regulations in the EU and the US are different, with the EU being less open to genetic modification that the US. In order to have a trade agreement, the two sides need to agree on a common regulatory framework.
​For example, in the USA it is permitted to use chlorine to disinfect chickens, to treat cattle with hormones, and to process genetically modified raw materials into foodstuffs, which the EU does not allow. Critics say big businesses are keen for the EU to lower its standards.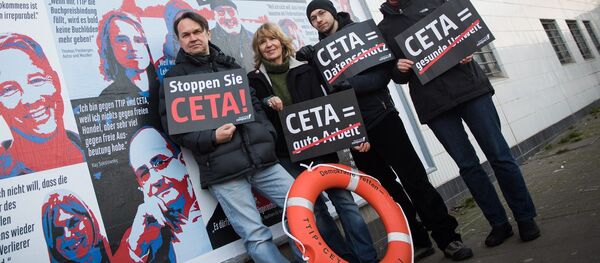 9 September 2016, 16:32 GMT
In the event of a US firm not being allowed to sell is products — from foods, to tobacco to pharmaceutical — in the EU, the firm could sue the EU or member states. Such a situation would trigger the controversial Investor-State Dispute Settlement (ISDS) mechanism, which critics say is a secretive trade tribunal system, separate from EU member states judiciary systems. 
There is growing opposition to the two deal across Europe and there have been suggestions from both French and German politicians that the deal is dead in the water.
"I will believe that when I see it. The next round of negotiations is starting on October 3 in New York, so TTIP is not over yet. CETA, which is a Trojan Horse, has already had all its provisions agreed at European level, could be approved as early as this Thursday (September 22)," Cermak told Sputnik.