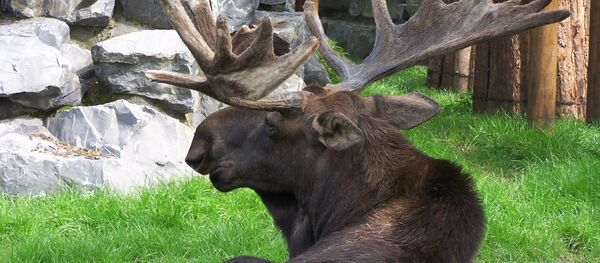 13 September 2016, 11:55 GMT
Finland's northernmost region of Lapland is described as one of the last wildernesses in Europe and is home to population of 300,000 wild
reindeer
. Today, Finland is testing an interactive reindeer warning app, named
Porokello
("Reindeer Bell") where drivers can tap their mobile phone screens to register any reindeer and receive warning signals when approaching an area where reindeer have been spotted. A warning reaches all drivers within a radius of 750 meters and is valid for one hour.
In a pilot project, professional drivers were given 600 handsets by the Lapland Center for Economic Development, which were specifically suited for the reindeer warning system. If proven successful, the app will be available for download on smartphones in 2017. In the future, the application is planned for use in bus traffic, taxis, ambulance and heavy transport vehicles.
​According to a survey, almost all test users were satisfied with the app and recommend it also to their colleagues, Finnish newspaper Hufvudstadsbladet reported. Ninety-four percent of the users were satisfied with the application, 75 percent said the warnings were rightly placed, whereas 95 percent believed that the application could be useful to reduce reindeer accidents. The most common complaint, however, was that the app was too demanding on the battery. The ultimate goal of the "Reindeer Bell" is to halve the number of road accidents involving reindeer, which today are estimated at some 4,000 per year.
According to Jaakko Ylinampa, the head of Lapland Center for Economic Development, Transport and the Environment, it is too early to gauge the app's effectiveness, as the "high season" only begins now, when the roads get slippery and dark, Finnish national broadcaster Yle reported.
Most of the crashes prove lethal for reindeer, and also inflict substantial damage on the cars involved. Drivers are seldom injured.
​According to Anne Ollila, director of the Finnish Reindeer Herders' Association, no other methods have shown any promise whatsoever. In the dark, drivers often mistook reindeer with reflectors for people, while the beasts kept tearing off the reflectors and scraping the fluorescent paint off their antlers. As for the trademark traffic signs with reindeer warnings, they were habitually stolen as souvenirs.
So far, the project has cost more than €600,000 with about 95 percent state financed through the Finnish Transport Agency. The project also involved the Reindeer Herders' Association and the Finnish Taxi Owners Federation of the Province of Lapland.
Reindeer husbandry is a traditional occupation in northern Finland that still provides work for some 10,000 people in the region.