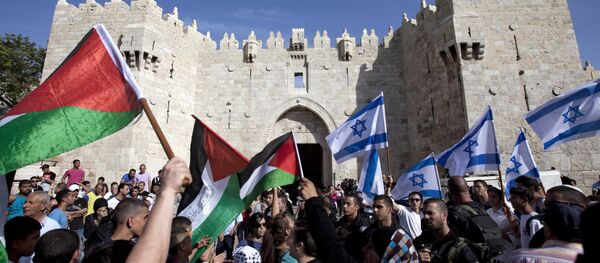 20 September 2016, 13:46 GMT
WEST BANK (Sputnik)
–
US President Barack Obama addressed both Israelis and Palestinians during his farewell speech at the UN General Assembly on Tuesday, saying that Israel should understand it could not permanently continue to build on Palestinian land while calling on Palestinians to recognize Israel.
"With Obama's term coming to an end, this stance comes a bit too late. This speech is not enough, during his years of power, we haven't seen any practical and specific steps taken by the US that reflect this position," Amin Maqboul, the secretary general of the Revolutionary Council of Fatah, said.
Maqboul added that the US administration must first stop settlement activities that devour Palestinian territories and prevent the establishment of a Palestinian state within the 1967 borders, with East Jerusalem as its capital.
With respect to inter-Palestinian reconciliation between Fatah and Hamas organization, he said that no real progress has been made in this regard, and that they as a group have presented some inquiries to Qatar as a mediator between them and Hamas, and haven't received any clear and explicit answers that will allow them to initiate steps toward reconciliation desperately needed by Palestinian people.
Over the years, both Hamas and Fatah, which is recognized by a wide majority of UN member states as the only legitimate representative of the Palestinian people, have met several times in Qatar, Cairo and Gaza and signed several reconciliation deals.