In its report, Stratfor pointed to the success of Wednesday's negotiations in Minsk, where the trilateral contact group, consisting of Ukrainian, Russian and Organization for Security Cooperation in Europe (OSCE) representatives, reached an agreement on the withdrawal of Ukrainian forces and Donbass militia from several locations along the line of contact in eastern Ukraine.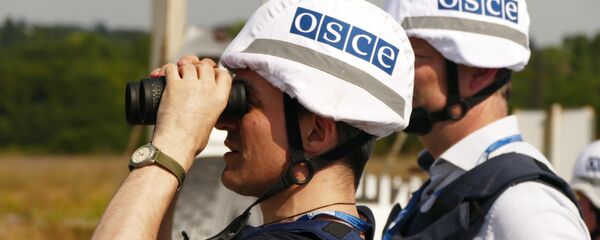 23 September 2016, 21:16 GMT
On Thursday, the parties began withdrawing troops and equipment from three areas which have seen intense fighting, with further withdrawals from four other locations expected starting October 5.
Stratfor noted that it was optimistic about the prospects for the latest deal. The think tank explained that this ceasefire may succeed because it concentrates attention on concrete areas of dispute, rather than attempting a broad-brush ceasefire across the front. Additionally, OSCE monitors will closely monitor Ukrainian and Donbass forces as they withdraw 1 km from the line of contact, "mak[ing] the new ceasefire agreement easier to enforce and sustain."
"If all goes well in the first three settlements, negotiations to implement a similar withdrawal and disengagement process in other areas of the conflict will begin. This gradual approach will facilitate the peace process, allowing contentious negotiations over strategic hotspots such as Avdiivka to take a backseat for the time being."
From a broader perspective, the think tank suggested that the latest attempt at peace may be part of an effort by President Barack Obama "to make headway over contentious issues," including Ukraine, before he leaves office. Stratfor also admitted that the US is finding it increasingly difficult to convince its European allies to stick to anti-Russian sanctions, with Joe Biden forced to appeal to Germany, France and Italy to stick to the measures. That may have something to do with the latest negotiations.
Stratfor concluded by noting that although the conflict in Ukraine, "and the deadlock between Russia and the West – is far from settled…the latest withdrawal agreement proves that a concerted effort is being made to at least reduce the violence in eastern Ukraine."
Russian officials and political analysts have always welcomed any effort to end the fighting in eastern Ukraine, which not only borders Russia, but speaks Russian and has a significant ethnic Russian population. What concerns all these experts now is that at the same time that efforts are being made to reach a durable ceasefire, so too are attempts by US lawmakers to provide Kiev with lethal weapons.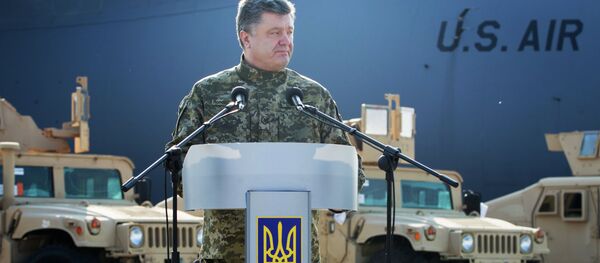 23 September 2016, 12:28 GMT
Last week in New York, Ukrainian President Petro Poroshenko again
urged
Washington to provide Kiev with deadly weapons. On Thursday, the House of Representatives approved a bill which would grant Ukraine the requested arms. Now, the bill must make its way through the Senate and be approved by President Obama.
The question, Russian analysts say, is who will win in this political competition – the hawks or the doves of the US political establishment. Commenting on this rift, and recalling that a similar struggle may be taking place in US policy on Syria, PolitRussia columnist Albert Naryshkin suggested that Moscow has been given the distinct impression that "some part of [the US establishment] just can't accept peace in any country…even if their own president might want it."
Kiev has already made clear that they are only too happy about the decision of the House of Representatives. The Russian Foreign Ministry, meanwhile, said that the development was "concerning," and asked how Washington can expect "to combine work to restore lasting peace [in Ukraine] with the supply of lethal weapons."
At this point, with a month-and-a-half left before elections in the US, Russian analysts are pinning their hopes on the idea that President Obama will not approve the delivery of weapons, even if he ends up signing the bill. Fyodor Lukyanov, editor-in-chief of the Russia in Global Affairs journal, put it as follows: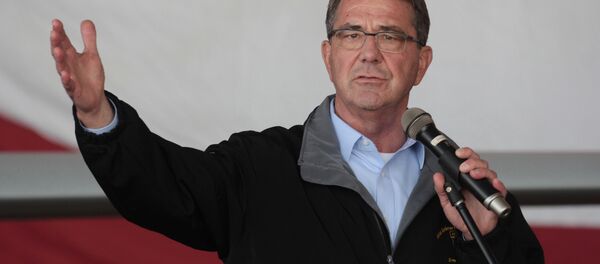 22 September 2016, 15:12 GMT
"If we are talking about the fate of this bill, it is likely that it will pass the Senate and be signed by the president, but as things stand that does not mean much. The fact is that Obama has consistently opposed the military lobby which has pushed to supply Kiev with lethal US weapons; the law only gives him the ability to send weapons – it does not oblige him to do so. Therefore, there will not be any deliveries to Ukraine in the near future –at least until the new president is inaugurated; even then, it will remain a question. Therefore, we can say that the law is being adopted for the next president – not the current one."
Unfortunately, according to Naryshkin, even if the law is signed, but not implemented, that still amounts to an important signal from hawks in the US establishment to Kiev officials: "that they can ignore and violate the ceasefire agreement, and that there are sufficiently powerful forces in the US to cover and support Kiev in this case."
Ultimately, the journalist suggested that Washington's confusing and contradictory policy, both in Syria and Ukraine, brings up the worrying prospect that "an uncontrollable schism" or "all-out war" has broken out in the US policy apparatus, "fought by means of torpedoing each other's initiatives. And in this war it doesn't matter who is the president, and who is a mid-level Pentagon official – with the latter considering it permissible not to take orders from the latter.
A similar tendency can be observed among European elites, Naryshkin noted. "In this way, Western policy toward the conflict in [eastern Ukraine] is becoming unpredictable and chaotic. Its dependence on the wishes or aspirations of its leaders is declining, while the role of backroom 'grey cardinals' – supporters of the 'war party', proving capable of carrying out their plans in spite of their leaders' policy, is rising."