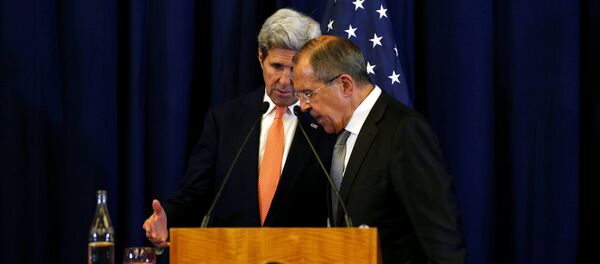 25 September 2016, 14:28 GMT
UNITED NATIONS (Sputnik) — On Sunday, the UN Security Council convened for an
extraordinary meetin
g to discuss the situation in Aleppo, where the Syrian government forces are carrying out an offensive against Jabhat Fatah al Sham, formerly known as al-Nusra Front and the so-called armed opposition groups.
"We outlined our position clearly. We need a serious process, without cheating, without people changing their stances every two days. The agreement was [achieved], and the only thing needed is its implementation instead of changing positions. If they continue doing this, it will be extremely difficult to have serious process," Churkin told journalists.
The latest cessation of hostilities in Syria was brokered by the United States and Russia on September 9. After being implemented on September 12, the deal broke apart with repeated violations of the ceasefire.