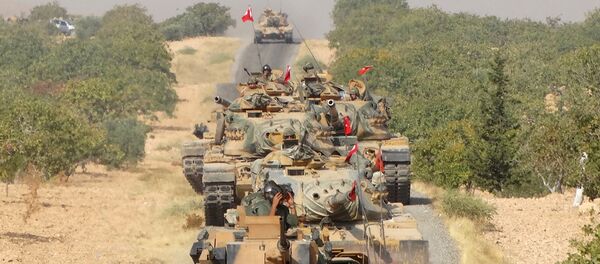 25 September 2016, 15:46 GMT
Turkey is "trying basically to separate the US from the Kurds," he said. This is why President Recep Tayyip Erdogan was "hinting at the Turkish participation with the US in an attack in Raqqa," he added.
Washington was initially hoping that the YPG and the Kurdish-led Syrian Democratic Forces would form the bulk of the ground troops, who will be tasked with clearing Raqqa, Daesh's de facto capital. However, Turkish officials have recently said that they are against the Kurds taking part in the offensive.
"Supposedly the goal [of the operation in Raqqa] will be to remove [Daesh], but of course part of the goal will be to prevent the Syrian government from defeating [Daesh] and taking control of Raqqa. So there is a lot of maneuvering going on right now, with Turkish forces and US special forces actually being on Syrian territory," Sterling noted.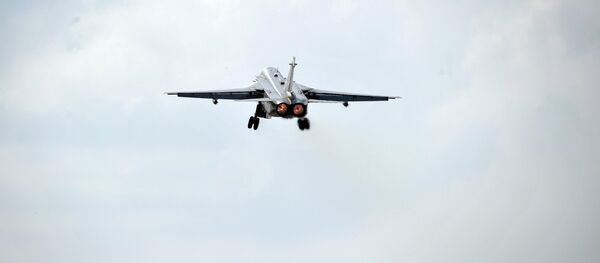 25 September 2016, 11:09 GMT
Ankara sent its armed forces into northern Syria on August 24. Operation Euphrates Shield, as the military incursion is formally known, is meant to push Daesh out of the border region and prevent the Kurds from advancing further west. Erdogan and his supporters have been concerned that Syrian Kurds could establish an autonomous region in the area, fueling unrest in Turkey that has struggled to tackle the Kurdistan Workers' Party (PKK) and other militant Kurdish groups. 
Analyst Anatoly el-Murid observed that this is what the United States is hoping to achieve.
Washington "wants to create a large Kurdish autonomous region in Syria. They think that the Kurds will pursue [American] interests in the region. Frankly speaking, they don't care what the Turks, Iranians or Iraqis think about it," he told Radio Sputnik.
Turkey's ongoing operation in Syria is "unlikely" to end in the near future, the journalist noted. "It will take some time. There are so many forces at play here," he said.
As a result, the Syrian government faces "an extreme challenge."
"Of course [Damascus'] priority right now is to expel terrorists from Aleppo. That will be task number one. If they are able to succeed there, then they could concentrate their forces and crash [Daesh] in Raqqa and at that point they would probably be negotiating with Ankara about the departure of Turkish forces from northern Syria," Sterling noted.
Aleppo, one of the largest cities in Syria, has recently become the key battlefield in the years-long war. The city is largely held by rebels groups, primarily al-Nusra Front, with the Syrian Arab Army (SAA) having largely succeeded in cutting supply routes to the terrorists.
Sterling further said that a recent air raid that saw US-led coalition warplanes bomb an SAA base in Deir az-Zor did not contribute to Damascus' anti-Daesh efforts.  
"Certainly, the US actions last week killing at least 62 Syrian soldiers were hugely helpful to [Daesh]. At that time in Deir ez-Zor the Syrian military was preparing to make a very strong push. Just days before they had recaptured a lot of territory from [Daesh]. A thousand soldiers had just arrived in Deir ez-Zor. And then a US attack at a critical point at a critical time was a huge help. It basically allowed [Daesh] to capture a strategic area," he explained.