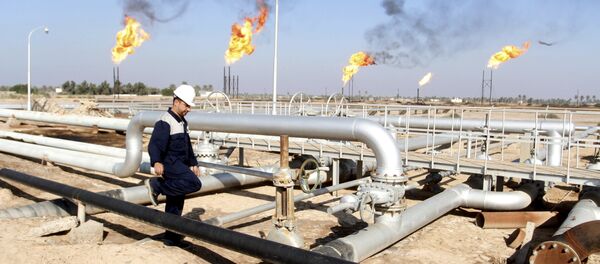 27 September 2016, 09:47 GMT
ALGIERS (Sputnik) — Algeria calls for the fair level of oil prices on the international market that would ensure stable development of the industry, Algerian Prime Minister Abdelmalek Sellal said on Tuesday at the inaugural session of the 15th biennial International Energy Forum (IEF).
"Algeria advocates the formation of a fair and reasonable price for investments in the energy chain, compensation of producers, replenishment of consumer safety and the stability of the markets," the prime minister said.
Major oil-producing countries should reach an agreement on oil production freeze to ensure sustainable development of the sector, Abdelmalek Sellal said.
"The main energy actors must reach an agreement on production levels to reinforce sustainable courses," he said.
"Otherwise, the markets would experience disturbances so severe that they would jeopardize long-term sustainability of oil industry and the global economy would be in a long cycle of recession," the prime minister continued.
In April, major oil-producing states failed to reach an output-freezing agreement in Doha, Qatar. Saudi Arabia, which had previously said that it would freeze output only if Iran followed suit, cited Tehran's absence from the talks as the reason for not supporting an output freeze.
Global oversupply and stagnating demand have caused oil prices to plunge from $115 per barrel in June 2014 to less than $30 per barrel in January 2016.
He added that the IEF may contribute to the recovery of global economy.

26 September 2016, 16:41 GMT
"Your forum is a message of hope and will certainly contribute to this positive momentum of confidence because it acts as a meeting of interests likely to bring visibility and stability to markets, revive global growth of economy and finally open for good to be citizens of the world," he said.
The three-day IEF is focused on the challenges for the industry, prospects of renewable resources and energy governance. The forum gathered ministers, senior officials, international organizations and experts from 72 countries.
The informal meeting of 12 OPEC member states and possibly non-OPEC oil producers is expected to take place on September 28 on the sidelines of the IEF, where plans to reverse the drop in global oil prices amid ongoing overproduction could be sketched out.