"The US has assumed responsibility for separating the opposition [from terrorists], but they haven't done so, so far. We have more and more reason to think that since the very beginning, the US could have been plotting […] to use the Al-Nusra Front to implement regime change," Lavrov told the British-based TV channel BBC World.
Russia understands that the United States did not want to separate the Al-Nusra Front terrorists from the moderate rebels since the very beginning, Lavrov said.
"They [the United States] said that the separation of the opposition from the Al-Nusra Front is a high priority. Despite these promises, they still haven't done that," Sergei Lavrov told BBC World.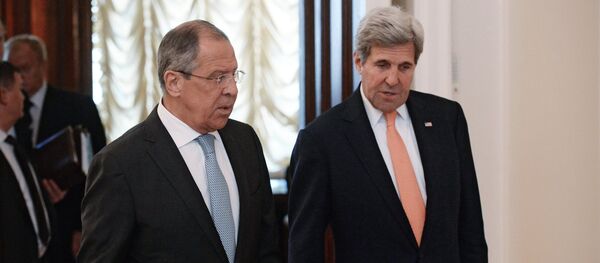 28 September 2016, 17:08 GMT
The Russian Foreign Minister, however, noted that he will hold another round of talks with his US counterpart John Kerry on Friday. They will discuss among other topics the separation of the moderate Syrian opposition from former Al-Nusra Front terrorists.
"We hold talks with Kerry practically every day. As far as I understand, today we will hold another one," Lavrov said.
Russia's top diplomat noted "Kerry continues to promise that when we stop flying [over Syria], and when Assad stops airstrikes, they will begin to separate the opposition from the terrorists."
Commenting on recent State Department "body bags" remarks on possible terrorist attacks in Russia because of its operation in Syria, Sergei Lavrov said that it is an unacceptable threat.
"It is unacceptable threat. Possibly, it is a signal for those, who want to do that [carry out terrorist attack in Russia]," the minister said.
The agreement Russia and the United States reached on Syria is still working, Russian Foreign Minister Sergei Lavrov said.
"It did not stop [working], and when we met in New York we stated that we were ready to fulfil the positions of the document we agreed on – with a condition there would be no delays in separating [terrorists from moderate opposition," Sergei Lavrov told the BBC World television channel.