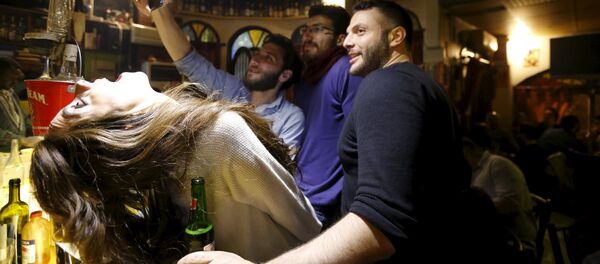 Paying a visit to the Syrian capital, RIA Novosti correspondent Rafael Daminov noted
in his report
that in Damascus, "one might forget that this is a frontline city. Cozy restaurants are beautifully illuminated, people are shopping, traffic controllers strictly enforce traffic rules, and a fragrant aroma floats through the city, strongly reminding us that in the Arab world, Damascus is called the 'City of Jasmine'."
 "You ask me about the attitude in Damascus toward the support provided by the Russian military to our army," a 40-year-old Syrian man named Hadi, the owner of a famous local café, told Daminov.
"Well picture this; a year ago, after it was announced that your country would be supporting the Syrian army, I saw the following scene: a street trader walking down the street with his cart of drinks, and out of the blue loudly crying: 'Allah, take care of Russia and give it eternal strength!' That is how people here reacted to Russia's support in the fight against terrorism!" the café owner exclaimed.
Invited into Hadi's café, Daminov instantly noticed a series of burnt wax candles.  "Preempting my question, the owner gave me a candle and asked me to light it."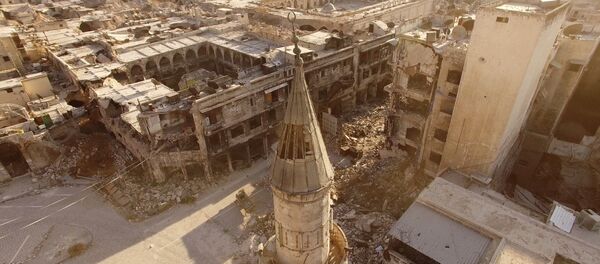 29 September 2016, 13:23 GMT
"These candles are in memory of the visitors to this café," Hadi noted. "In six years of war, over a thousand of them have been killed. I knew them personally. One was a soldier, killed in battle; another was killed by the explosion of a shell, which not so long ago were falling like a dense cloud on Damascus."
Hadi's café is located in Bab Touma, the old quarter of the Syrian capital. "In its narrow streets, the ancient churches and mosques coexist," Daminov noted. "It features numerous craft shops, and in the evening boisterous young people enjoy taking a stroll here. It's hard to believe that just two kilometers away is a completely different life. The neighborhood of Jobar is the last of the capital's neighborhoods still under the control of the extremists."
© Wikipedia
Bab Touma gate in Old Damascus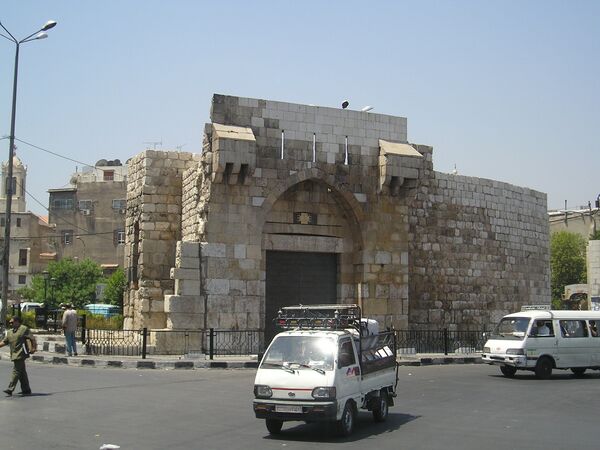 Bab Touma gate in Old Damascus
Speaking to the correspondent, Marina, the young manager of a fashionable local restaurant, recalled that "a year ago, there were shells and mines falling here; people were afraid that the rebels would break through the defenses and storm our neighborhood."
"If not for Russia, we would have already been wrapped up in a veil; a completely different order would reign here," the young woman sarcastically added.
A third year student in the faculty of tourism at Damascus University, Marina entered university when Syria had already entered a state of full-scale war. Many of the country's historical sites, once fondly visited by foreign tourists, were now home to terrorists. Asked why she chose tourism, at a time when many Syrians themselves have fled the country, Marina answered without hesitation:
"The war cannot last forever. I believe that it will soon end, and we will live as before, and tourists will definitely return to us."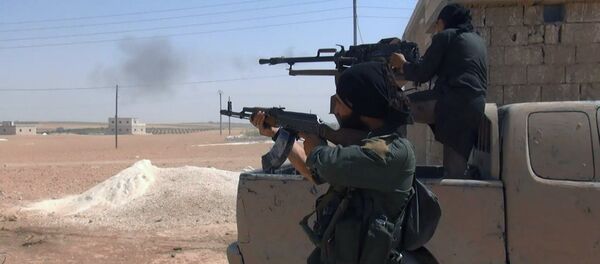 30 September 2016, 10:01 GMT
Daminov noted that today, the only visible reminders that Damascus is the center of a brutal military conflict are "checkpoints throughout the city, periodic power outages and portraits pasted everywhere of President Bashar al-Assad in military uniform with the inscription 'We need only you.'" Only once were Daminov and his colleagues reminded that a war is going on here, when a Syrian Air Force plane struck a militant stronghold in Jobar. The strike saw a loud blast accompanied by a plume of smoke.
© Sputnik / Iliya Pitalev
Jobar, a district of Damascus controlled by Jabhat al-Nusra militants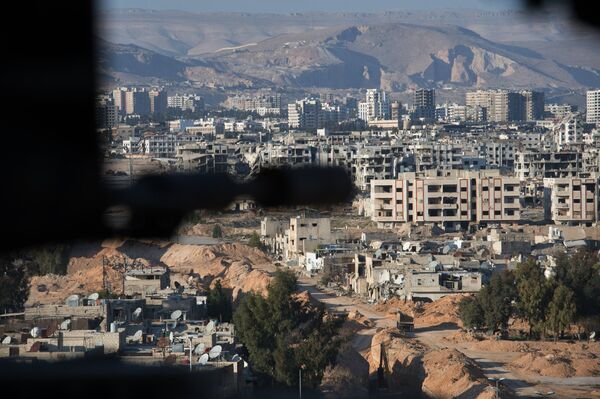 Jobar, a district of Damascus controlled by Jabhat al-Nusra militants
© Sputnik / Iliya Pitalev
Visiting al-Hamidiyah Souq, one of the largest markets in the Middle East prior to the war, the RIA Novosti correspondent noted that souvenirs, including pearlescent jewelry boxes featuring the engraved phrase 'Thank You Russia', written in Russian and Arabic, have become very popular.
"'Hello, How are you? Are you from Russia?' a young man in military uniform looking over one of these little boxes asked me. Starting a conversation, one realizes that these phrases were almost all my interlocutor knew in Russian. Not waiting to hear my reply, the man broke into a smile, stretched out his hand, and said 'My name is Haitham."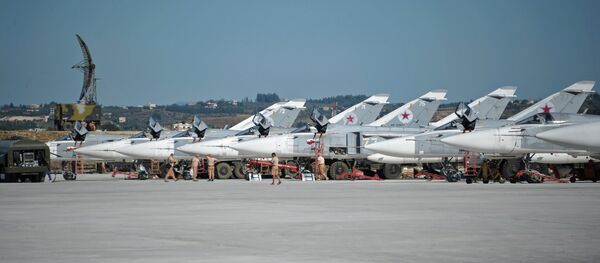 29 September 2016, 21:52 GMT
Haitham, it turns out, had recently received a furlough from his army unit, stationed outside Latakia, and has already managed to become acquainted with the Russian military units station there, even learning a few words in Russian.
"The man told me that he 'desperately did not want to go to war, because he was afraid of the insurgents,'" Daminov explained. Eventually caught by his local draft officer, Haitham said that his fear soon "vanished at the sight of Russian aircraft, flying one after another over [his] military unit."
"When a great power like Russia is at your side, you no longer feel fear before the terrorists," Haitham exclaimed. "I want to tell you that the morale of the entire Syrian army, and of our people as well, has greatly increased with the appearance of your military in Syria," the soldier added.
Before parting, Haitham asked Daminov to include in his report that "Syrians do not want the Russian military to ever leave Syria."