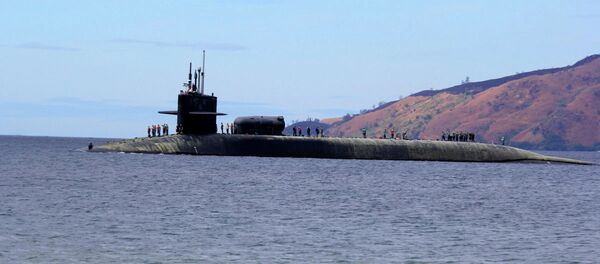 30 September 2016, 04:47 GMT
MOSCOW (Sputnik)
–
The UK government unveiled a project to invest 1.3 billion British pounds ($1.7 billion) in the construction of the new Successor-class nuclear submarines, part of the full 178 billion-pound spending plan for Britain's military, a press release issued on Saturday revealed.
"Britain's ballistic missile submarines are the ultimate guarantee of our nation's safety – we use them every day to deter the most extreme threats. Along with increasing the defence budget to buy new ships, planes and armoured vehicles, this shows that this Government will never gamble with our national security," Defense Secretary Michael Fallon was quoted as saying in the press release.
The current UK government has made a pledge to increase the defense budget annually until the end of the decade in order to meet the NATO commitment to spend 2 percent of GDP on defense.
The UK parliament backed the renewal of the Trident nuclear weapons system in mid-July. New stealth submarines are going to replace Vanguard-class nuclear subs in service since 1990s.
The proposed replacement for the Vanguard-class of ballistic missile submarines has generated controversy over its cost.