MOSCOW (Sputnik) – The eighth BRICS summit will take place in Goa October 15-16.
"We expect and hope that our approaches, guidelines, assessments will receive adequate support and be reflected in the final document, although we have great respect to other countries' approaches," Ryabkov said, referring to the October 15-16 BRICS summit in Goa.
The diplomat underscored that none of the economic union's five member states would like to see a military solution to the conflict in Syria and the wider Middle East.
"Without false modesty, no one is immersed in these issues at such a depth as Russia for obvious reasons. Therefore, our voice has clout, with all due respect to the role played by our Chinese, Indian friends, colleagues from South Africa and Brazil at many international venues. Simply, the extent of our country's involvement in these processes speaks for itself," Ryabkov said.
The BRICS countries are preparing an extensive document for signing at the Goa summit, some 80 percent of it is dedicated to economy issues, Ryabkov told Sputnik.
"Any BRICS summit is a very big event, but not only for the media but also for politics, as well as an event from the point of view of its influence on political processes in the world. We are working on an extensive final document. Its coordination is in advanced stage, around 30 percent of it is economy issues," he added.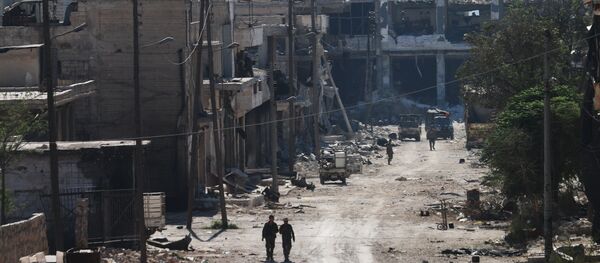 4 October 2016, 11:19 GMT
"The Middle East, without doubt, will be discussed bearing in mind what is happening now. The Syrian topic will not only be a subject for discussion, but also will be reflected in the final document," Ryabkov said.
According to the official, other topics such as climate issues, reform of the United Nations and the UN Security council will also be discussed and be mentioned in the document.