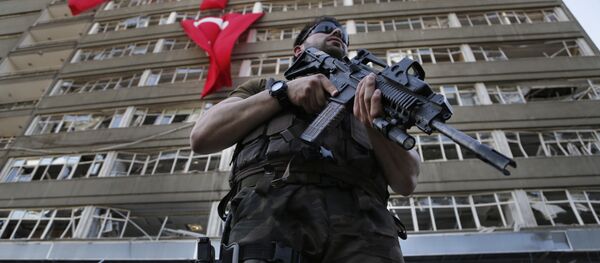 4 October 2016, 06:47 GMT
ANKARA (Sputnik) — Self-exiled Turkish Islamic cleric Fethullah Gulen, wanted in Turkey for allegedly plotting the July coup attempt, could flee the United States to avoid extradition to his home country, Turkish Justice Minister Bekir Bozdag said Tuesday.
"Given the likelihood of extradition from the United States, Gulen is looking for possible ways to escape. We have intelligence reports, according to which the members of FETO (Fethullah Gulen Terrorist Organization) are looking for a suitable country for the leader of the organization to flee to," Bozdag said, as quoted by Anadolu news agency.
The military coup attempt took place in Turkey on July 15. The main conflict was in Ankara and Istanbul and resulted in the death of more than 240 Turkish citizens, with more than 2,000 people injured. The Turkish authorities have accused Gulen of involvement in the attempted coup and demanded his extradition from the United States. Gulen himself denounced rebellion and declared his innocence.
Ankara submitted a request to the United States for an urgent arrest of Gulen on September 10. Washington has so far refused to extradite the cleric, citing lack of evidence of his involvement in plotting the coup.