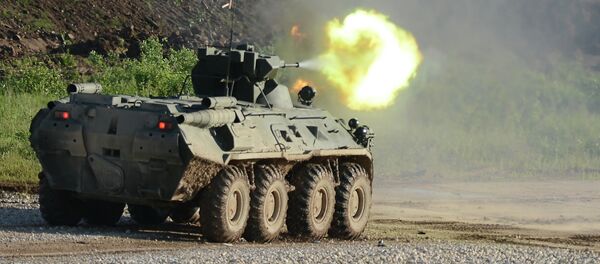 17 August 2016, 14:20 GMT
MOSCOW (Sputnik) — The BTR-82A vehicle is one of the latest versions of BTR-80 amphibious armored personnel carrier. It has improved armor, is fitted with spall liners, as well as having upgraded night vision equipment and the Glonass satellite navigation system. The vehicle has been in service with the Russian army since 2013.
"Before the end of the year, the Military Industrial Company will supply the Defense Ministry with 20 new BTR-82As, some of which will be made in a special Arctic configuration. These will be serially made carriers that are partially modified for use in extreme Arctic conditions," the source said.
The Military Industrial Company, part of the Russian Machines group of companies, specializes in the production of military gear and works for both the government and private customers.
The vehicles will have upgraded interior climate control to ensure the functioning of electronic equipment, including electronic sights, radio devices and other complex instruments, according to the source.
The BTR-82A engine compartment will also be insulated to withstand extreme temperatures, while different types of transmission and engine oil, as well as engine fuel, will be used to enable cold starts at temperatures as low as —60 degrees Celsius (-76 degrees Fahrenheit).
The BTR-82A will become the Russian military's first wheeled armored vehicle capable of moving across stretches of waterlogged tundra, across snow up to 60 centimeters (23 inches) deep and along the Arctic coast, the ministry source added.
The Russian military is currently working on different types of vehicles for use in different regions of Russia's Arctic territories, such as the Novaya Zemlya archipelago and the Chukchi Peninsula. Before 2015, the military used only tracked all-terrain vehicles for moving across Russia's vast Arctic territories.
Russia has been stepping up its military, trade and exploration activities in the Arctic region. It has been building transport and energy production infrastructure, as well as installing military facilities and developing the Northern Sea Route linking Europe to Asia.