Mark Dearn, senior campaign coordinator at War on Want, spoke with Radio Sputnik's Brian Becker, stating that there is no chance for the agreement to be passed this year, given the confrontations the deregulation deal has triggered, and pointing out that not a single chapter of the treaty has been concluded.  
"The reality is, right now [TTIP] cannot be passed this year. I think it's been very clear from comments we've seen, especially from France and Germany," he said.
The new set of talks are mainly aimed at consolidating previous work, according to insiders. As for the controversial environmental concerns, food safety and the opening up of the public services markets, there will be no progress, Dearn believes.
"We can see very clearly…that what this is about is not USA and Europe, it's about powers of big business. And the losers always in this situation are the average workers, the people on both sides of the Atlantic who'll see their jobs go, and they won't see the financial benefit that is supposed to come from this."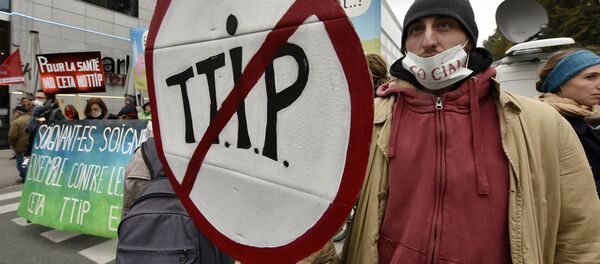 26 September 2016, 14:25 GMT
Anti-TTIP activists have taken a strong stand against the secretive deal, Dearn said, as it has become clear that the agreement will only benefit large multinational corporations that are against "any kind of rule that operates in public interest rather than in the interest of profit."
The situation is indicative of the crisis within the social-democratic parties of the EU, and their inability to address the fundamental failings of globalization, he said. Seeing social democrats "falling over themselves to try and reduce corporate tax rates," and telling those disenfranchised by neo-liberal policies that these trade deals are good for jobs when, in fact, it will be the exact opposite, is, he states, hard to believe.
​But concurrently there is now a rise in the popularity of left-wing movements, he said, citing the opposition Labor party in the UK that adopted "a position that is wholly at odds with traditional social-democratic position" on trade, where it cannot destroy equality before the law and simultaneously get rid of environment protection and public health.
"We are seeing a very big shifting at the moment in Europe. And we are seeing the rise of the far-right, and we are seeing the failures of the Social-Democratic politics over the past twenty years…" Dearn said. "But the thing that we have to look to, is that we're also seeing the left, coming up with good solutions to this, and we hope that that continues, and a good starting point for this which has already been taken is stopping [TTIP]."