Ms. James has cited professional and personal reasons for her decision to leave the position of leader of UKIP, taking over from Britain's biggest Brexit campaigner, Nigel Farage.
Ms. James' decision to resign leaves the party rudderless with Nigel Farage in charge purely on a technicality. And the loss of leader after just 18 days has once again exposed the chaos running through the 'DNA' of the party, according to Ian Dunt, political analysis and editor of Politics.co.uk
"They're like rats in a bag. They fight and fight and fight. It's in the DNA of their party," Dunt told Sputnik.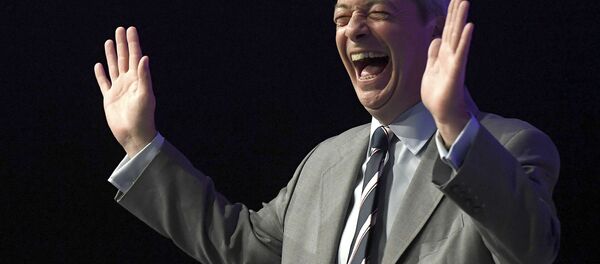 16 September 2016, 12:50 GMT
"When they started they were really small and it was common for the press officer to defend their outbursts as common small-party infighting. But as their personalities have developed and the party has got bigger and bigger, the infighting has continued."
Commenting on the departure of UKIP's leader after just over a fortnight, Dunt says it displays more about the internal dynamics of the party and how it operates more than anything else.
"Accusing them of stealing headlines from the Tory party conference is too generous."
"They're constantly trying to savage each other, they hate each other, they really despise one another. They're extremely aggressive to one another — this situation is more about the internal dynamics of UKIP and how the party operates more than anything else."
As for who is in the wings to take over, it's clear, according to Dunt, that Farage doesn't want the job.
"We should take him at his word — but he keeps on leaving the door open for his return."
"Stephen Woolf is the front runner, he's pretty main stream, and UKIP's policies are barely indistinguishable from the Tory party at the moment. Woolf was just late to send his form in but it looks like he'll get another shot at it," Dunt told Sputnik.