On September 19, a UN-Syrian Arab Red Crescent convoy carrying humanitarian aid for the Aleppo province was hit by a strike, according to the International Federation of Red Cross and Red Crescent Societies (IFRC). As a result, 18 of 31 trucks were destroyed and at least 21 individuals were killed.
According to the report seen by RIA Novosti, the experts studied the video recording made by the Russian drones accompanying the convoy, where "a car with a trailer clearly carrying a large-caliber mortar" can be seen. They also noted that al-Nusra Front-controlled militants were active in the region, when the convoy was attacked.
"Urm al-Kubra is located in the region controlled by al-Nusra [Front] militants, moreover, this territory is noted as a region with high concentration of militants. If you consider reports of September 19, you will see that al-Nusra militants carried out a large-scale offensive supported by mass artillery fire, tanks and volley fire rocket systems in that very region at that time," the report read.
The experts analyzed the footage and photos of the attack in the media and came to a conclusion that "the attack" was staged: in particular, the cabin of one of the trucks was not affected and "has no trace of a close explosion — traces of debris or holes, only the cargo damaged." Furthermore, the edges of the holes in damaged trucks are covered with rust. The road surface was also in perfect condition, while according to the experts it would have been damaged if it were hit by an airstrike.
The degree of damage contradicts the airstrike version: the blast in a confined space would at least have overturned the trucks with cargo while explosions would have left shards in the walls of nearby buildings. But judging by the photos, the trucks only lost its canvas, their tires remained intact, the cardboard boxes remained in their places, and the nearby buildings have no cracks.
The experts were also puzzled over the crater allegedly left by the purported airstrike.
"The central part of the crater pulls objects in instead of scattering them around. Is it a black hole?"
"In summary of this preliminary analysis, we can conclude that we are dealing with a well-prepared staged or 'fake' attack," the report reads.
A diplomatic source told RIA Novosti that this report was sent to representatives with the United States who "expressed their disagreement with the conclusions."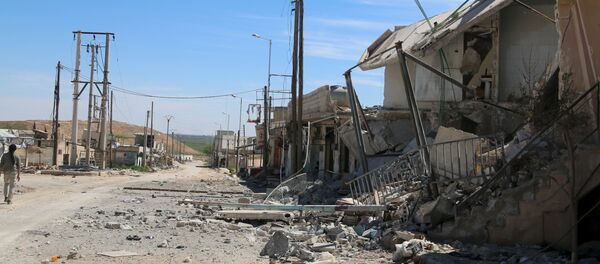 24 September 2016, 09:33 GMT
Western countries
have accused Russia and Syria
of the attack. Moscow has refuted the allegations and proposed to carry out an investigation of the incident, but the Russian proposal has not been met with interest by the West. The Russian Defense Ministry, commenting on the attack, said that
a US Predator drone operated
near Urum al-Kubra area north of Aleppo at the time of the deadly attack and had left the area only a half an hour after it.