Revenue for Halloween costumes already totals some $7 billion each year in the US, but Brad Butler, who manages online commerce operations for costume chain Halloween Express, told Eye Opener TV, "Clown mask sales are up more than [300%] from a year ago the same period online."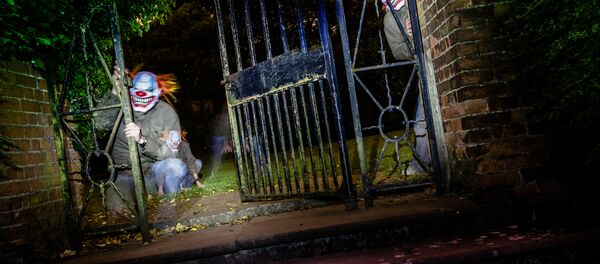 14 September 2016, 23:22 GMT
The Halloween Express site features 72 different clown masks that range "from cute and whimsical to gruesome and hideous," helping to assemble costumes, "suitable for the big top or something far more sinister."
Butler added, "In the top ten, eight of them are 'evil' clown masks this season whereas last year, five of the top ten were 'evil.'" 
Toby Spencer, Darke County, Ohio, sheriff, warned clowns in his area in September that their antics would be met by armed citizens. 
On a post to his Facebook page, he wrote: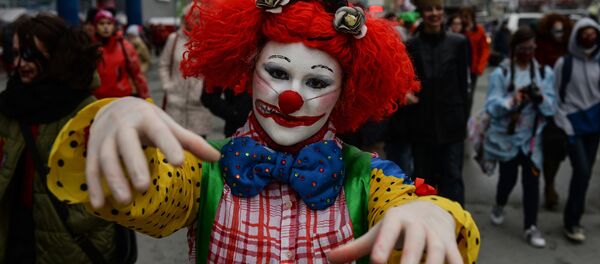 10 September 2016, 00:28 GMT
"For you that think its funny to dress up as a clown, scare drivers on dark roadways, chase people with things that resemble weapons….TAKE HEED: This warning is for YOU….yes you THE IDIOT!…..as of today we have issued 6,125 CCW (Concealed Weapon) permits in Darke County alone…..just a number to consider the next time you think about donning your clown outfit, you might also ask yourself how your luck will be today!"
Best-selling author Stephen King, who wrote the horror novel It, about a murderous clown that targeted children admitted, "If I saw a clown lurking under a lonely bridge, or peering up at me from a sewer grate, with or without balloons, I'd be scared, too,"