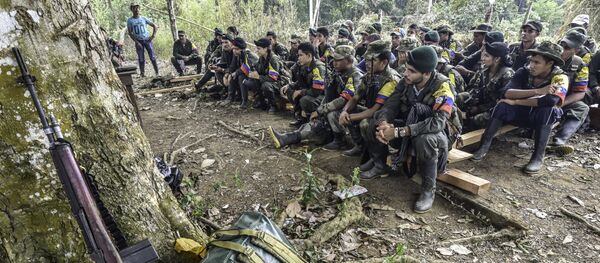 5 October 2016, 04:34 GMT
MEXICO CITY (Sputnik) – Uribe told reporters as quoted by El Universo on Wednesday, after meeting with Colombian President Jose Manuel Santos, that "adjustments to initial proposals" will be made in order "to seek a new peace agreement binding on all Colombians." Santos said in his turn that peace in Colombia is "close."
On Wednesday, Santos announced an extension of the ceasefire regime with the FARC until the end of October.
On Tuesday, the Colombian president announced the start of a new national peace dialogue with the FARC.
On October 2, Colombia's National Election Council said the peace agreement between the government and the FARC rebel movement, signed in September, failed to garner the support of the majority of Colombian voters at a referendum.
The half-century war between the FARC and the Colombian government has claimed the lives of a quarter of a million people. The two parties began peace talks in November 2012 and signed a historic ceasefire agreement in Cuba on August 24.