After several bureaucratic difficulties, standoff with locals and a long conversation with the police, the newcomers managed to find the treasure in Lubomierz, Lower Silesia.
According to reports, the two young Germans arrived from Hamburg. They said that their grandfather once lived in Lubomierz and buried treasure in this area.
"On Saturday, two Germans came to the town. They had a sheet of paper with a hand drawn map on it made in 1952," the town's mayor Wieslaw Ziolkovsky told the web portal Onet.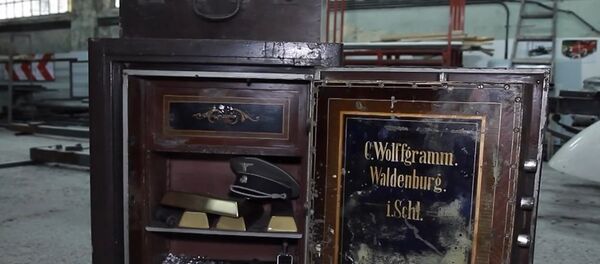 20 September 2016, 13:30 GMT
In the area indicated on the map, the men found two cracked jugs, watch, jewelry, coins of the 19th century and a cigarette case of 1935. All items were sent for examination. If it turns out that the findings are of historical value, they will be handed over to the local museum.
The arrival of treasure-hunters first raised panic among local residents. When they saw unfamiliar people starting excavations, they called the police and the fire service.
The officials told the Germans that they have no right to continue their work without special permission (which they received later). Moreover, they indicated that the treasure would be handed over to the state authorities, as everything they have found in Poland is considered a property of the state.