15 January 2016, 16:29 GMT
Trump had claimed that some parts of London were so "radicalized" that they had become no-go zones for the police in the city; claims that were refuted by ex-London mayor Boris Johnson, former Prime Minister David Cameron and serving mayor
Sadiq Khan
.
A subsequent campaign was started, calling to ban Mr. Trump from the UK on race-hate grounds — but the Home Office refused.
​Meanwhile, one man living in East London decided to seek US$12.4 million damages against Trump for allegedly defaming Muslims in the Forest Gate are of the capital.
​However, Kamram Malik and his Communities United Party lost the legal battle over Mr. Trump's controversial claims.
Mr. Malik has sought permission from London's High Court to proceed with his claim — however Master Victoria McCloud, ruled that the case was not actionable.
"It's disgusting, I spent a lot of money and it took a lot of hard work to be turned down by the judge like this. I hope to appeal the decision. His comments really affected and upset people, which is why I wanted to seek justice through the court," Mr. Malik told Sputnik.
Mr. Malik explained that in the area where he lives in London, around 45 percent of the population is Muslim, and people were very upset to read Donald Trump's comments.
"When people see these kinds of remarks it seriously affects them," he said.
"Trump has no base to defame Muslims in this area. The whole religion is not bad. No one has the right to publicly defame people like that and when it's said by someone like Donald Trump — it's repeated on televisions around the world and allowed to spread. This is not fair," Mr. Malik told Sputnik.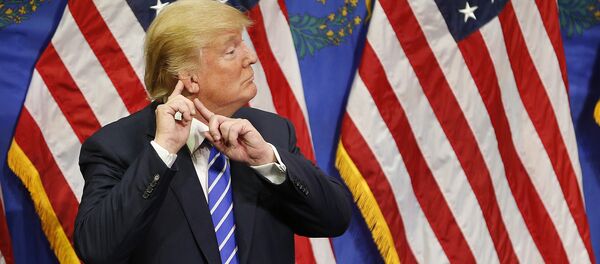 3 December 2015, 16:56 GMT
However, Master Victoria McCloud ruled that Mr. Trump's comments could not be the subject of a defamation claim, "even is what was said by him caused real upset and a sense of injustice to a section of the London community more widely."
She also said Mr. Malik's claims under the European Convention of Human Rights, the Equality Act and Religious Hatred Act failed for legal reasons.
Despite losing the case, Mr. Malik says he is "satisfied" that he "tried to do something positive for my community."
Mr. Malik, who did not appear in court, has been ordered to pay US$43,000 costs and refused permission to appeal — although he can reapply to the Court of Appeal. However, Mr. Malik told Sputnik he cannot afford to pay the costs.