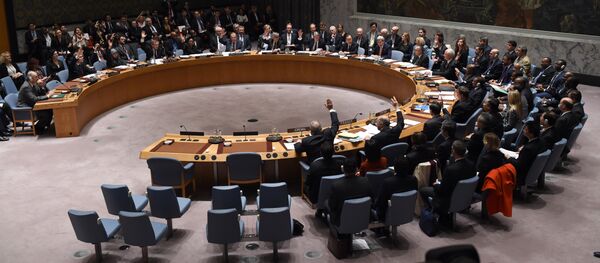 8 October 2016, 21:09 GMT
BERLIN (Sputnik)
–
Draft UN Security Council resolutions on Syria authored by Russia and France should be combined, German Foreign Ministry spokeswoman Sawsan Chebli said Monday.
"Ultimately, the question is to look for ways we might be able to combine both proposals, how to make one proposal out of two to be at the UN Security Council's disposal so that we can finally escape this tragic situation in Syria and… at least deliver humanitarian aid to Aleppo, if we do not manage to agree on a ceasefire," Chebli said at a briefing.
She added that Berlin supported the French-proposed draft resolution.
"It was a good and balanced proposal that adequately described the situation in Aleppo," Chebli explained.
On Saturday, Russia as permanent UNSC representative blocked the French draft resolution on Syrian crisis settlement, however, it was unable to secure support for its own draft in the UN Security Council.
Russia's new draft resolution provided, in particular, for the ceasefire in the hotspot Aleppo province, near which an UN-Syrian Arab Red Crescent humanitarian convoy was hit by a strike last month. As a result, 18 of 31 trucks were destroyed and at least 21 individuals were killed. The attack marked the collapse of a Russia-US bilateral ceasefire agreement negotiated at the time.
The Russian proposals also recalled the importance of ensuring the immediate and unhindered humanitarian access, particularly through the 48-hour humanitarian pauses to help facilitate aid delivery.
Syria has been mired in civil war since 2011, with opposition factions and Islamist terrorist groups such as Islamic State (IS) and the Nusra Front, now known as Jabhat Fatah al Sham, both outlawed in Russia, fighting the Syrian Army.