On Monday, leaders from the second largest US-backed rebel group in Syria — Ahrar al-Sham — reached a new agreement with Syria's long-time al-Qaeda affiliate Al-Nusra Front calling for cooperation with terrorist fighters from the Daesh (ISIS) offshoot Jund al-Aqsa that pledged allegiance to and was absorbed by al-Nusra Front on Sunday.
​Ahrar and JFS reach agreement over JFS's absorption of Jund al-Aqsa pic.twitter.com/mIQT0BKZXw
​The cooperation deal places Washington in a troubling predicament with the Obama White House continuing to provide aid and support to Ahrar al-Sham which fights now with both al-Qaeda and an offshoot of Daesh (ISIS) under the umbrella organization The Army of Conquest undermining the United States claim to moral superiority in dealing with the Syrian theater with the US now aligned directly behind the terrorists that they claim to be fighting against.
​The development may ultimately force Washington's hand to reconsider their current strategy that has focused on both tackling the spread of the Daesh (ISIS) terror group in Syria while still looking to oust the Assad regime on account of the fierce bombing campaigns conducted by both Syrian and Russian forces to weed out that multiplying terror threat.
In the wake of the ceasefire collapse, to which Ahrar al-Sham openly refused to act in accordance and stated to Washington directly that they would not disband from the Al-Nusra Front terror group because it is "impossible," the United States and its Western allies have gone on the offensive against Russia and the Syrian regime within the halls of the UN Security Council with France even exploring the possibility of war crimes probes against Moscow and Damascus with the International Criminal Court.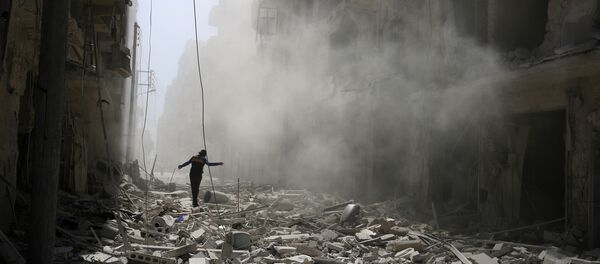 10 October 2016, 18:23 GMT
Russia counters that the ceasefire deal fell apart as a result of the US-led coalition airstrike on a Syrian Army base in Deir Ez-Zor that resulted in the death of at least 82 soldiers and paved the way for a major Daesh (ISIS) advance and as a result of the over 300 ceasefire violations by the so-called moderate rebels who intensified their violence against the Syrian Army at a time when peace had been called.
The topic of Syria has also become a major talking point in the 2016 US presidential election campaign with Democratic nominee Hillary Clinton calling for a no-fly zone which would require striking the Syrian government's air control systems in order to protect the rebels. Her opponent Donald Trump said that such a policy made no sense because "we don't even know who the rebels are, so what's the point" and he cautioned that "we keep supporting rebels and they keep being worse than the guys we were going after."
The United Nations estimates that over 400,000 people have been killed and a record number of people have been displaced both internally or as foreign refugees.