US Marine Corps commandant Gen. Robert Neller and Japanese Defense Minister Tomomi Inada cooperated on the land transfer, first agreed to by the US in 1996.
By the end of the year Japan would like to see the US make progress in turning over the almost 10,000-acre section of the 17,500-acre Northern Training Area, including the relocation of six helipads. During the meeting, Inada said, "I call for continued cooperation [by the United States] as we are making diligent efforts." according to the Japan Times, telling Neller, "The security environment surrounding our country is extremely severe. A strong Japan-US alliance is indispensable."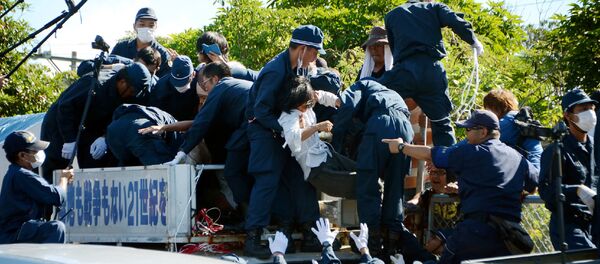 Inada also renewed Tokyo's appeal to the US that exercises involving the Osprey aircraft, currently deployed from Ginowan's Air Station Futenma, be conducted outside of Okinawa.
The state of affairs for relocation is unclear, as village residents living near the proposed new helipad sites have protested their construction, citing concerns over noise, pollution and crime. Two of the six new helipads would be built in the small village of Takae, which is located in a national park in northern Okinawa.
Protests have escalated in the last few months, with incidents of riot police and military personnel brutalizing peaceful demonstrators. After one such incident in July, the Mainichi quoted Saori Chinen, a local mother, saying, "The quiet Yanbaru forest (the northern part of Okinawa) will be changed if the helipads are built in Takae…."I don't want to leave my children in an environment where Osprey aircraft fly over their heads. Nobody knows when they will crash."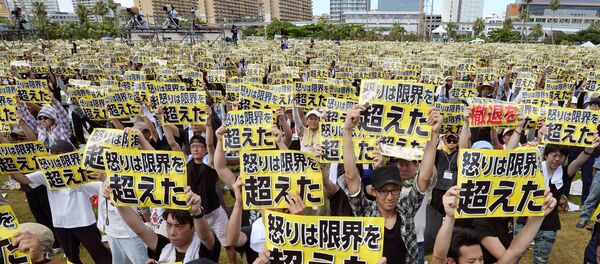 27 September 2016, 00:30 GMT
She added, "Is the construction worth sacrificing our daily lives?"
Just before police violence against protesters in September, Okinawan-born lawmaker Keiko Itokazu noted, "It's been 71 years since the war ended and America is still occupying large parts of Okinawa, freely roaming around Okinawa's skies and waters."
"Okinawa is not treated as an equal of the rest of Japan."