ISTANBUL (Sputnik) — On Monday, Russia and Turkey signed an intergovernmental agreement on the gas pipeline, which envisions the construction of two underwater legs in the Black Sea, with the annual capacity of 15.75 billion cubic meters each.
"Surveying works will be conducted first, feasibility studies, design and estimate documentation will be prepared. Then will the pipe-laying begin in 2017," Novak told reporters following the Russian-Turkish intergovernmental commission.
"The completion date of both offshore and onshore sections of the pipeline is the end of 2019," he added, noting that extensive preparatory work is underway to start building pipeline infrastructure.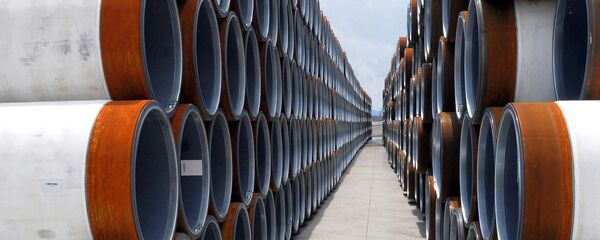 11 October 2016, 13:21 GMT
The Turkish Stream project aimed at delivering Russia's natural gas to Turkey and parts of Europe was announced in late 2014 by Russian President Vladimir Putin on his state visit to Turkey.
In November 2015, the project was suspended after a Turkish F-16 fighter downed a Russian Su-24 aircraft in Syria. In June, following Turkey's apology to Russia for the incident, the sides began a reconciliation process.
Russia's energy company Gazprom will own rights for both underwater legs of the pipeline, while the land stretch of the first leg will be owned by the Turkish customers and the land stretch of the second leg will be controlled by a joint venture.