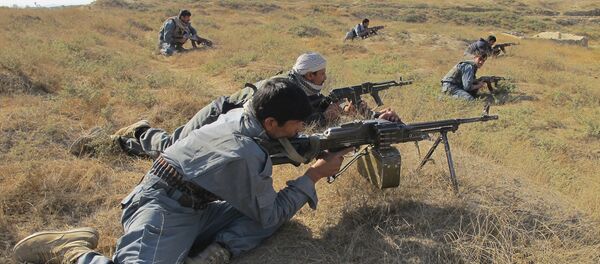 13 October 2016, 06:31 GMT
Just a few days ago a similar fate befell Lashkar Gah, a city in southern Helmand province, and signs of the so-called "Kunduz syndrome" are now visible also in Farah City in the west with hundreds of local families having already moved out.
In an interview with Sputnik, former Deputy Interior Minister Abdoul Hadi Khaleed described the situation in Kunduz, Lashkar Gah and Farah as a social, rather than military problem and something local authorities need to handle, not the army.
"Unfortunately, this war is more about fighting rebels and troublemakers the army and security forces now have to deal with, instead of the civil authorities who should have calmed the people and kept troublemakers out," General Khaleed said.
"Our civil authorities have no money for this. What they have is corruption though," he added.
When asked how a bunch of drugged youths on quad bikes took a provincial capital complete with a whole army corps, police and security forces hostage, Abdoul Hadi Khaleed complained about the lack of coordination between the army, police and security forces.
"Unfortunately, our armed forces are not yet ready to perform such tasks. Everyone hopes that the police will take this security situation under control. However, the police normally deal with social crises and natural disasters, not armed conflicts and security situations," he emphasized.
In a recent televised address the former governor of Parwan province said that despite repeated promises of a large-scale security sweep in the province, not a single such operation had so far been carried out.
"Small wonder that the terrorists saw this as a sign of our weakness and took Kunduz a second time," he complained.
The very same thing is now happening in Herat with the surrender of Farah seen by the locals as a prelude to Operation Herat by the Taliban.
With the jihadists turning up the heat on the government forces, chances are high that the "Kunduz syndrome" may repeat itself, this time in Herat.