ALEPPO (Sputnik) — Shelling of residential areas by terrorists in the Syrian city of Aleppo has killed more than 130 children since the beginning of September, a medical source told RIA Novosti on Thursday.
"The number [of children killed in September] is probably more than 130, because there are clinics and private hospitals on the outskirts of the city. The injured and killed are often brought there during heavy shelling, so we cannot count them," the source from Aleppo's central hospital said.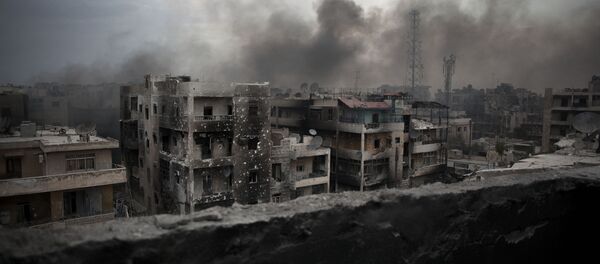 10 September 2016, 20:19 GMT
Registration books of the two largest hospitals in the city show that all children died from shrapnel and gunshot wounds.
Fighting in the city of Aleppo intensified after the Syrian army declared an end to the week-long ceasefire on September 19, blaming militants for numerous violations that made the cessation of hostilities unreasonable.
Earlier in the day, terrorists shelled a school in one of Aleppo's districts, killing seven and injuring more than 19 children.