WASHINGTON (Sputnik) – According to Cook, the strikes were authorized by US President Barack Obama and were a response to the recent missile launches threatening USS Mason and other vessels operating in international waters in the Red Sea.
"Early this morning local time, the US military struck three radar sites in Houthi-controlled territory on Yemen's Red Sea coast. Initial assessments show the sites were destroyed," Pentagon spokesman Peter Cook said.
"These limited self-defense strikes were conducted to protect our personnel, our ships, and our freedom of navigation in this important maritime passageway. The United States will respond to any further threat to our ships and commercial traffic, as appropriate, and will continue to maintain our freedom of navigation in the Red Sea, the Bab al-Mandeb, and elsewhere around the world."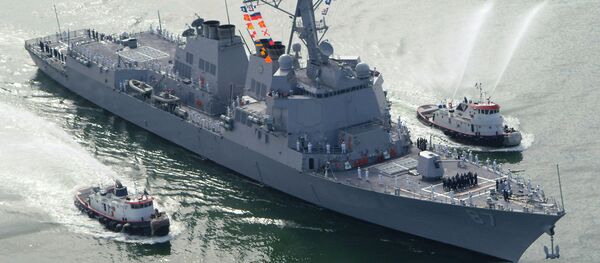 12 October 2016, 20:24 GMT
The first attack against the Mason and the amphibious warship Ponce from the rebel Houthi-controlled territory in Yemen took place on Sunday.
On Wednesday, US media reported that Mason came under a second missile attack and had to use countermeasures to defend itself.
Since 2014, Yemen has been engulfed in a military conflict between forces loyal to the government of President Abd Rabbuh Mansur Hadi and Houthi rebels.
The last attempt at peace talks between the warring sides held in Kuwait in August failed.