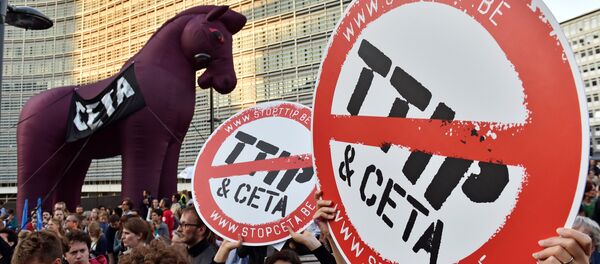 14 October 2016, 11:26 GMT
MOSCOW (Sputnik) — The US presidential elections are scheduled for November 8.
"There appears to be little chance of TTIP being concluded this year," the spokesperson for the ETUC, which comprises 89 national trade union confederations across 39 countries, plus 10 European trade union federations, said.
If the deal is not concluded under US President Barack Obama's administration, it would mean that further negotiations on the deal are to be left for Obama's successor, which will likely be either Democrat Hilary Clinton or Republican Donald Trump, who is well-known for his criticism of the deal.
"It is not clear if there is a risk. US presidential candidates have focused much more on TPP than on TTIP. Mr Trump is against TPP, but it is not known what he would do about TTIP," the spokesperson for ETUC said when asked about the possible complications for TTIP should Trump win the presidential race.
According to the spokesperson, the EU trade organizations still have many concerns that have not been addressed by the US side. Such issues reportedly include "the privileged access of foreign investors to a special legal procedure, the safeguarding of public services and the upholding of workers' rights."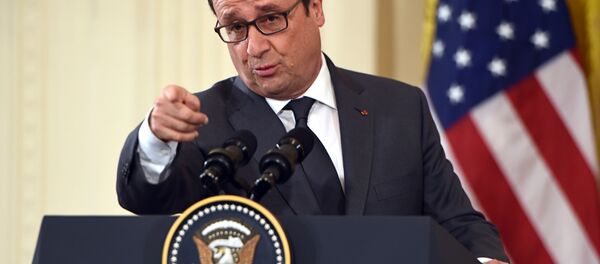 13 October 2016, 14:22 GMT
On October 7, President the European Commission Jean-Claude Juncker, speaking at a conference in Paris with French Prime Minister Manuel Valls, stated that the EU is not going to "kneel before the Americans" in negotiating the establishment of the TTIP.
In late September, Slovak Economy Minister Peter Ziga, whose country currently holds the EU presidency, deemed "unrealistic" a conclusion of this treaty before Barack Obama's leaving the White House. Previously, concerns about consequences of TTIP for Europe and doubts on its chances to be finalized under Obama were expressed by several high-ranking German and French officials.
The TTIP, negotiations on which have been ongoing since 2013, seeks to establish a free trade zone between the two sides of Atlantic. Since the start of the talks, the deal has drawn severe criticism for the lack of transparency. Its opponents also express concern over the tremendous power it would potentially give to international corporations and the fact that it could seriously violate ecological standards.