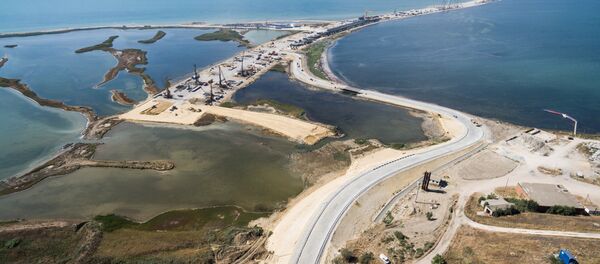 14 October 2016, 17:54 GMT
SEVASTOPOL (Russia) (Sputnik)
–
On October 14-16, the 18-member delegation of Italian lawmakers and businesspeople are visiting Russia's peninsula of Crimea.
"I want to inform you that we have Free Economic Zone that presents ideal conditions for investment. In regard to marina, we are very much interested in modern technologies in terms of marina development, because we are certain that we will find a niche of our own in the Mediterranean community as soon as sanctions are lifted. I also want to compliment the Italian architects and add that the Crimean cities will only win if Italian architects get a chance to work here," Sergey Gradirovskiy said at a meeting with the Italian businessmen.
The speaker added that Crimea presented ideal conditions for farming oysters and invited the Italian entrepreneurs to bring their business to Crimea.
Gradirovskiy also invited suppliers and partners from Italy to follow in the footsteps of wine producers from France who in July, while visiting Crimea, announced their intention to set up a joint venture on the Peninsula.
The Crimean peninsula seceded from Ukraine and reunified with Russia after more than 96 percent of local voters supported the move in a referendum in March 2014. Kiev, as well as the European Union, the United States and their allies, did not recognize the move and consider the peninsula to be an occupied territory.
Nevertheless, over 60 delegations from dozens of countries have visited Russia's southwestern Crimea region this year, defying Western restrictions, including those from France, Italy and Jordan.