North Dakota State's Attorney Ladd Erickson had filed charges against Goodman for participating in a "riot" for her alleged role in filming and reporting an attack by armed security personnel on the Native American-led protest of the Dakota Access pipeline. The peaceful protest is headquartered within the Standing Rock Sioux reservation, which straddles North Dakota and South Dakota.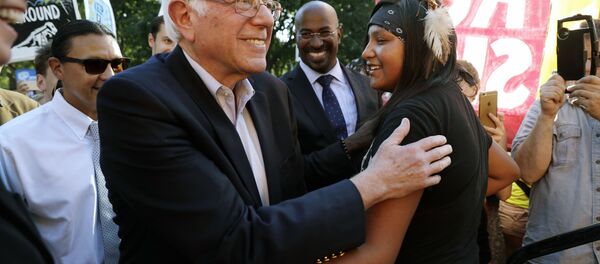 14 October 2016, 00:18 GMT
The charges arose from Democracy Now's coverage of a September 3 attack on protesters that showed security guards working for the pipeline company unleashing dogs and using pepper spray on protesters. Their footage revealed a dog with a bloody mouth and protesters with bite injuries.
The charges were not dropped, Goodman noted, but District Judge John Grinsteiner refused to sign them. Though Goodman's legal battle is over, there have been more than 140 arrests during the protest, and many with legal fates still in limbo.
Surrounded by activists and media outside North Dakota's Morton County courthouse, Goodman said, "This is very important. … This is a vindication of freedom of the press, of the First Amendment, of the public's right to know. I see the media really as the underground railroad of information." That information must continue to flow, she said.
She also drew attention to the protest she and Democracy Now are continuing to cover. "We are going to continue to cover everything," she said in response to questions outside the courthouse. "There's a standoff at Standing Rock. That's why we came to North Dakota, to cover this epic struggle," of Native Americans and other protesters taking on energy companies, the US government and the forces driving climate change. "It's critical that the media be here to report this. It's nothing less than the fate of the climate," Goodman said.
Democracy Now reports that after Erickson dropped the criminal trespassing charges also filed against the journalist, he filed the new "riot" charge on Friday. District Judge Grinsteiner did not find probable cause in the riot charge.