MOSCOW (Sputnik) — Kurdish fighters have liberated eight villages near Mosul hours after Baghdad launched an operation to reclaim Iraq's second largest city from Islamic State (ISIL or Daesh) jihadist group, a member of the Kurdistan Democratic Party (KDP) in Russia said Monday.
"Today Kurdish Peshmerga forces captured eight villages north and east of Mosul, but it doesn't mean the it will be an easy fight. [IS] militants probably don't have enough fighters to control all villages and are retreating inside Mosul," Hoshawi Babakr told RIA Novosti.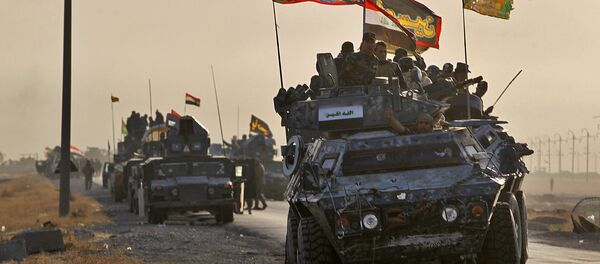 17 October 2016, 13:10 GMT
The operation to recapture Mosul, a religiously and ethnically diverse city dominated by Sunni Arabs, is a multipronged campaign involving the Iraqi Shiite army, the Kurdish militia called Pershmerga and Sunni tribal fighters.
Hoshawi Babakr said Kurds wanted to take control of Kurdish-populated areas in northern Iraq's Nineveh province. He ruled out Peshmerga entering Nineveh's capital Mosul, which he said was the task for the Iraqi army, backed by artillery and air strikes from the US-led international coalition.