Scores of Daesh (ISIL/ISIS) militants were eliminated by Kurdish Peshmerga forces in the Iraqi province of Nineveh as part of the preparations for the assault on Mosul.
Peshmerga General Juku Muhammed Kalahi told Sputnik about how his Kurdish troops had liberated several villages.
"Our forces terminated scores of Daesh members during the liberation of the following villages: Al-Sheikh Khamis, Kazkan and Shaquli. Right now we're one kilometer away from the town of Bartella," the general said.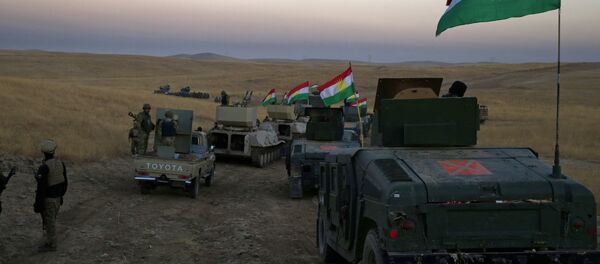 17 October 2016, 08:38 GMT
According to Kalahi, Daesh manpower reserves were depleted during clashes in the province of Nineveh, where the Iraqi military and its allies scored victories in El-Kueir and Al-Khazer several hours ago.
Earlier a source in the Iraqi security services told Sputnik that today, on October 17, the military and its allies dislodged Daesh forces from the vicinity of Bashiqa – a town located only 12 kilometers away from Mosul.
Since the Middle Ages, Bartella had been inhabited by Arameans, an early group of Christians who used a language akin to that spoken by Christ; its population of 30,000 was roughly one third Catholic and two thirds Orthodox and boasted churches dating back to the 12th century. However, in August 2014, the city residents fled ahead of invading Daesh forces; its last 12 surviving residents faked conversion to Islam and were able to escape the following month, according to AINA News.