The US-led coalition will support the forces during the whole operation.
The command said that up to 4,000 Kurdish fighters were deployed to take part in the operation in accordance with an agreement between Iraqi Kurdistan and the government of Iraq.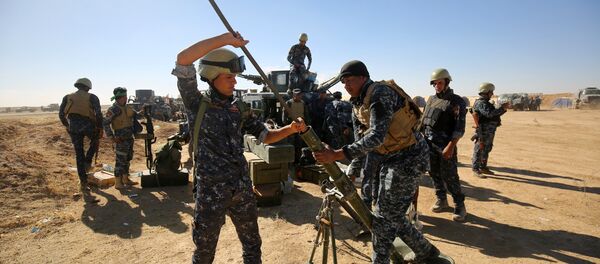 17 October 2016, 02:12 GMT
"Global Coalition warplanes have pounded ISIL [Daesh] positions as of 16 October and will continue to provide close air support throughout the operation," Peshmerga added.
The Kurdish Peshmerga forces are not going to enter the northern Iraqi city of Mosul in accordance with agreements reached with the Iraqi government, Jamal Iminiki, Chief of the General Staff of the Peshmerga forces, said
"You can't make any predictions about a city like Mosul. ISIS [Daesh] has a considerable force in Mosul. Many militants who were defeated in Iraqi cities such as Ramadi, Tikrit and Baiji might be in Mosul now even though some of them might have gone to Syria. We've an agreement with the Iraqis and coalition that the Peshmerga won't be going to Mosul," Iminiki told the Rudaw news agency.
Earlier, Iraqi Prime Minister Haider al-Abadi announced that the long-awaited operation to retake the Daesh stronghold in Iraq has begun.
On Saturday, reports emerged that US howitzers deployed about 13 miles from the Mosul's city center opened fire against Daesh positions while the US-led coalition carried out a number of airstrikes.

Leaflets declaring "Victory Time" were reportedly dumped over the city on Sunday.