MOSCOW (Sputnik) — The RT broadcaster's accounts have been blocked in the United Kingdom, Editor-in-Chief Margarita Simonyan said Monday, suggesting that the move stifles free speech.
"Our accounts in the UK have been closed. All Accounts. 'The decision is not subject to revision'. Long live freedom of speech!" Simonyan said in a Twitter post.
Нам закрыли счета в Британии. Все счета. 'Решение пересмотру не подлежит'. Да здравствует свобода слова!

— Маргарита Симоньян (@M_Simonyan) October 17, 2016
Following Editor-in-Chief Margarita Simonyan's statement on Twitter earlier in the day, RT UK said it had been informed by the National Westminster Bank that it "will no longer provide" banking arrangements with the broadcaster.
​Russian Foreign Ministry spokeswoman Maria Zakharova commenting on the RT blocked accounts said that it seems like London has abandoned all of its freedom of speech obligations.
"It seems that leaving the EU, London has left all its freedom of speech obligations in Europe. As they say, a new life without bad habits," Zakharova said in a Facebook post.
RT UK added that National Westminster Bank said its parent organization Royal Bank of Scotland Group would refuse to service the broadcaster without "any discussion."
"We have recently undertaken a review of your banking arrangements with us and reached the conclusion that we will no longer provide these facilities," NatWest said in a letter to RT's London office.
© Sputnik
NatWest letter to RT's London Office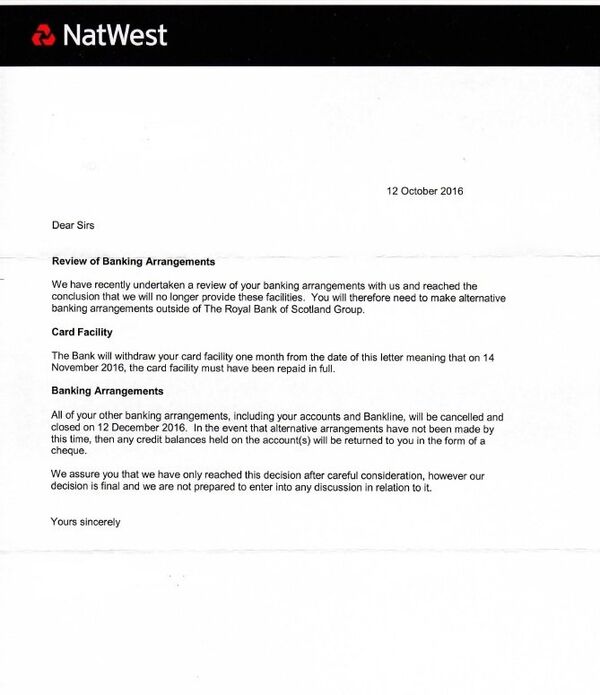 NatWest letter to RT's London Office