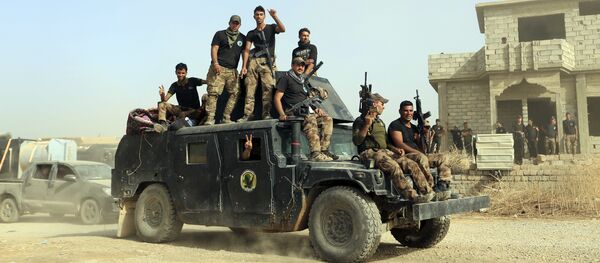 17 October 2016, 11:56 GMT
ANKARA (Sputnik)
–
The Shiite-dominated Iraqi government launched an offensive early on Monday to liberate Mosul, the nation's second biggest city with a diverse population and a large Sunni Muslim presence.
"They say Turkey must stay out of Mosul. How could we possibly not enter? We have a 350-kiometer [217-mile] common border and that's where the threat comes from … There are our brothers in Mosul – Arabs, Turkmens, Kurds," Erdogan said at a congress in Istanbul.
Turkish Deputy Prime Minister Numan Kurtulmus confirmed that Ankara was considering several action plans.
"It is vital to get rid of Daesh. Turkey has already explained to all parties concerned how it was going to get involved. We have Plans A, B, and C," Kurtulmus said.
He added it was equally important to avoid ethnic and religious strife in the city. The Iraqi army is cooperating with Kurdish Peshmerga forces and Sunni tribal militias. Baghdad promised earlier that only Iraqi forces would enter Mosul.