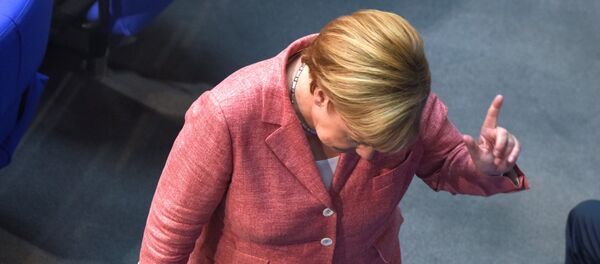 15 October 2016, 12:05 GMT
Merkel and Seehofer have been arguing about Germany's refugee policy for months. While Seehofer has been calling for the introduction of stricter measures limiting the inflow of refugees, Merkel has been insisting on a more open policy toward migrants.
As result, the meeting of the Christian Social Union in Bavaria (CSU) planned for early November is likely to take place without Angela Merkel. That would be the first time since Merkel's election in 2005 when she won't be present at such an important event.
Commenting on the issue, CSU Press Secretary Jürgen Fischer told the newspaper that "no final decision on the issue has been made yet." Seehofer also confirmed that he maintained "open" and "honest" dialogue with the German Chancellor.
The Christian Democratic Union of Germany (CDU) and the Christian Social Union in Bavaria (CSU) form a political alliance and share a common CDU/CSU parliamentary group in the German parliament. The conflict between the two parties started in 2015 with the outbreak of the refugee crisis in the EU.
The current refugee crisis has been said to be the worst since the end of the Second World War, with over a million migrants coming to Germany alone. In particular, Seehofer criticized Merkel for her open-door policy toward refugees and suggested introducing the upper limit of 200,000 refugees a year, but Merkel has rejected the proposal.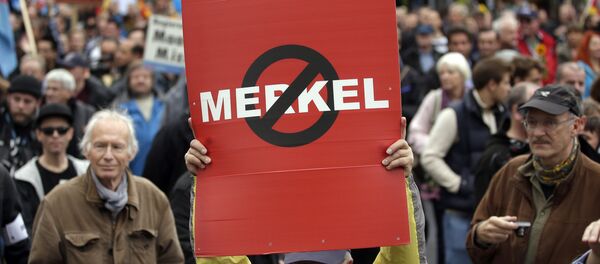 16 October 2016, 08:09 GMT
As result of Merkel's refugee policy, her party has suffered a series of state election defeats. Opinion polls suggest a majority of Germans are opposed to Merkel staying for a fourth term.
According to a survey commissioned by the magazine Cicero in May, two months after the CDU suffered heavy losses in three state elections, 64 percent of Germans do not want Merkel to remain Chancellor.