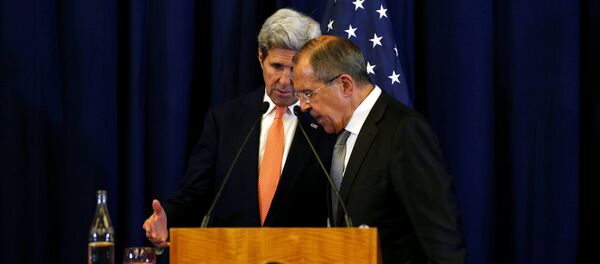 20 October 2016, 18:52 GMT
MOSCOW (Sputnik) — All eight humanitarian corridors, which have been created to allow unarmed militants and civilians to leave eastern districts of Syria's Aleppo, have been permanently attacked by militants throughout the day, the Russian Defense Ministry said Thursday.
"All humanitarian corridors were permanently under accurate fire," the ministry said in a daily bulletin posted on its website.
The "humanitarian pause" was introduced in Aleppo at at 08:00 local time (05:00 GMT) on Thursday to ensure the safe evacuation of the city's civilian population as well as unarmed militants from eastern Aleppo. Civilians are encouraged to leave the war zone through six corridors, while two others are reserved for militants willing to lay down their arms.
Earlier in the day, Russian Defense Minister Sergei Shoigu announced that Moscow had decided to extend the humanitarian pause in Aleppo for 24 hours.