The Russian officers have been injured as a result of intentional attack of militants on humanitarian corridors that should be used by civilians and militants willing to leave Aleppo.
"Their lives are not in danger," the Russian center for Syrian reconciliation said.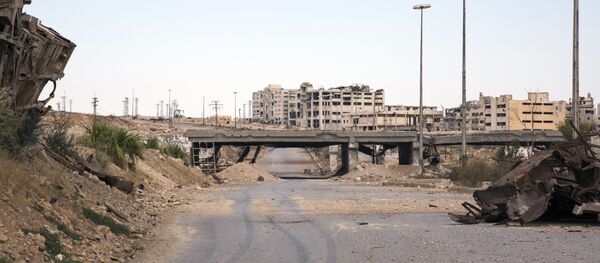 20 October 2016, 16:11 GMT
The officers have been transported to Russia's Hmeymim airbase in Syria's Latakia.
Militants have publicly executed 14 local officials in Aleppo for calls to leave areas controlled by terrorists, the center said.
Eight militants have left Aleppo on the first day of the humanitarian pause in the city, the Russian militants said.
A humanitarian pause in Russian and Syrian airstrikes on terrorist positions came into force in Aleppo earlier today. It will last until 7:00 p.m. local time (16:00 GMT). Civilians are encouraged to leave the war zone through six corridors, while two others are reserved for militants willing to lay down their arms.
Earlier in the day, a militia source told RIA Novosti that al-Nusra Front militants opened fire at civilians who wanted to leave Aleppo via the Bustan al-Qasr humanitarian corridor.