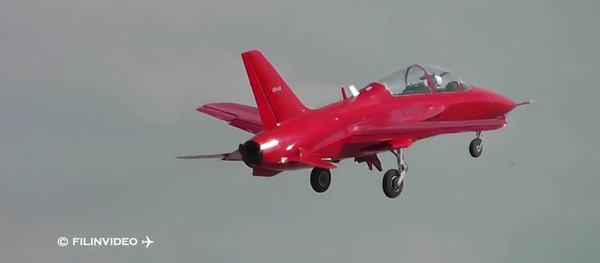 RYBINSK (Sputnik) — Earlier in October, Russian private design bureau Modern Aviation Technologies (KB SAT) said that first SR-10 jet trainers for the Defense Ministry's need will be produced by the end of 2017. According to the manufacturer, about 20 jet trainers will be submitted to the state testing by 2020. Russia's Saturn aircraft engine manufacturer proposes to use its AL-55 turbofan engine in the new aircraft.
"This aircraft and the engine as a component are included in the plan for the next three years," Borisov told reporters, adding that the ministry will impose "very strict requirements over acceptance of the aircraft into service..," as lives of unexperienced pilots would depend on its reliability.
SR-10 is a subsonic, single engine, all-composite dual-pilot aerobatic trainer aircraft with a moderate forward-swept wing scheme. Its reported maximum takeoff weight is about three metric tons and maximum speed is nearly 500 miles per hour.