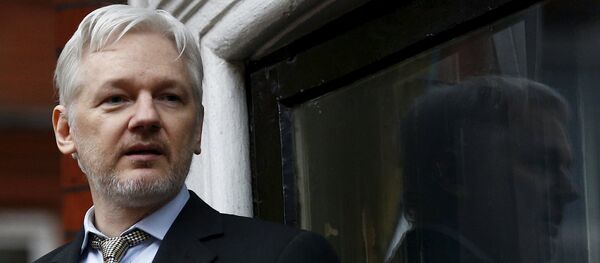 18 October 2016, 22:38 GMT
Assange's internet access was cut on Friday after the release of Hillary Clinton's controversial and previously secret paid Goldman Sachs speeches.
"The government of Ecuador respects the principle of non-intervention in the internal affairs of other states," Ecuador's foreign ministry said in a statement. "It does not interfere in external electoral processes, nor does it favour any particular candidate."
They also expressly stated that their government "does not yield to pressure from other states."
But the US intelligence community is not keeping mum about the fact that they actually did pressure Quito to take Assange offline.
"It was a bit of an eviction notice," a senior intelligence official told NBC News.
The US has asserted that they believe Assange is a "willing participant" in a Russian intelligence operation, by accepting and publishing documents obtained by "Russian hackers" intending to influence the election outcome. The Kremlin has repeatedly denied that they were involved in the hacks or leaks.
"The general view is he is a willing participant in the Russian scheme but not an active plotter in it. They just realized they could use him," the official continued.
John Kerry was in the UK that day, which lead to speculation online that he had a hand in it.
The State Department has denied any involvement in Assange's internet being disconnected, however.
"While our concerns about WikiLeaks are longstanding, any suggestion that Secretary (John) Kerry or the State Department were involved in shutting down WikiLeaks is false," State Department spokesman John Kirby said in a statement.
However, the unnamed US intelligence official speaking to NBC reportedly stated that "a message was conveyed to Ecuador that it should stop allowing Assange to carry water for Russian intelligence agencies, and that Ecuador, though run by a leftist, anti-American government, was receptive."
Interestingly, this all occurred as what appears to be a sham US company was revealed to have attempted to set up Assange to accept what they claimed was money from Russia, as well as smear him as a pedophile.
The company, toddandclare.com, claims to be a dating site for single women.
In a bizarre exchange, someone claiming to be a representative of the company, Hannah Hammond, proposed Assange appearing in one of their commercials for one million dollars. After a skeptical response from Wikileaks, she sent another one detailing the layout of the commercial — and how it would be funded.
"The source of the $1 million is the Russian government. It will be wired to Mr. Assange's nominated account, upon his cooperation, and before filming of the ToddandClare.com ad by the SoHo camera crew," Hammond wrote in a September 16 email.
The strange email raised many red flags, and Wikileaks responded, demanding that, "you immediately cease any plans that you have to use Mr. Assange's name to draw attention to your business."
"Your email appears to convey an elaborate scam designed to entrap Mr. Assange's reputation into unwanted and unwarranted publicity," a Wikileaks legal representative, identified only as James, responded the same day.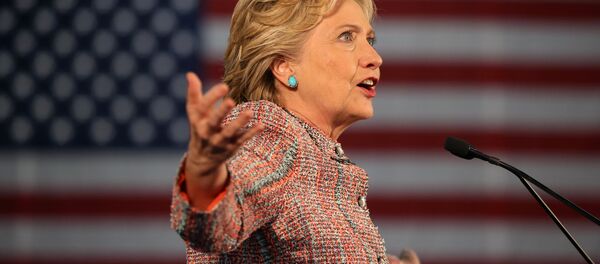 20 October 2016, 12:30 GMT
After the rejection, the company then filed a complaint with the United Nations, accusing Assange of having used their site to molest a child using their website in the Bahamas.
Redditors and other internet sleuths began digging into the company's outlandish claims and found that toddandclare.com was linked to an address in San Francisco that was previously used by a data firm called Premise Data. Their cofounder, David Soloff, posted a photo of himself and Clinton to social media earlier this year.
Soloff has denied involvement with toddandclare.com.
Assange has been residing in the Ecuadorian Embassy for over four years due to threat of being extradited to the United States.
Despite his internet connection being severed, Wikileaks has continued to publish daily batches of hacked emails from Clinton campaign chairman John Podesta.