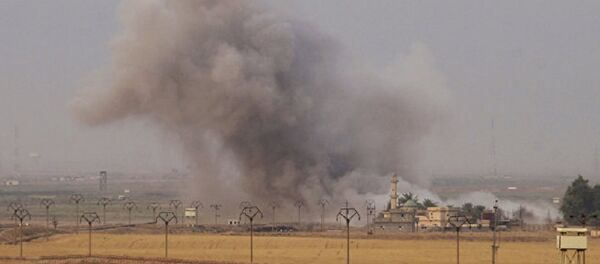 21 October 2016, 18:17 GMT
WASHINGTON (Sputnik) — According to the representative, the coalition registers all claims of protocol breaches and seriously investigates them.
"At this time, we cannot associate the alleged civilian casualties with any Coalition strikes in the area. The Coalition adheres to targeting processes and procedures aimed to minimize risks to non-combatants," the operation representative told RIA Novosti.
Earlier on Saturday, Russian Defense Ministry spokesman Maj. Gen. Igor Konashenkov said that the airstrike, registered by the Russian reconnaissance on Friday, resulted in about two dozens civilians dead, including women and children, who participated in the mourning procession.
On October 16, the Iraqi government backed by the coalition began a major offensive on the city Iraqi of Mosul, the last large Islamic State stronghold in the country.
The Inherent Resolve Joint Task Force, established in 2014 by the US Department of Defense, comprises military personnel of about 60 nations and states defeating the Islamic State terrorist group, outlawed in Russia and many other countries, as its main goal.