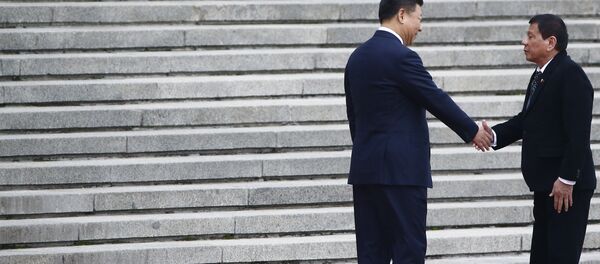 22 October 2016, 09:00 GMT
In an interview with Sputnik's
Chinese edition
, Vladimir Yevseyev, deputy head of the Moscow-based Institute for CIS Studies, said that Washington has yielded to Beijing in the economic struggle for influence in the Philippines.
The interview came after the newspaper South China Morning Post touched upon the results of a recent visit by Philippine President Rodrigo Duterte to China, which the newspaper said has repeatedly managed to outwit US President Barack Obama when it came to developing ties with Manila.
Recalling that China and the Philippines agreed on a mechanism to resolve the dispute over the South China Sea, the newspaper made it clear that the United States, for its part, repeatedly drew Beijing and Manila into the ongoing spat over the South China Sea issue.
Obama's plan to isolate China in international trade has ground to a standstill, the newspaper said, referring, in particular, to Washington's unsuccessful attempts to stop the UK, Australia, France, Israel, Germany and Canada from joining the Asian Infrastructure Investment Bank initiated by China.
Against the backdrop of Duterte's visit to China, Republican presidential candidate Donald Trump accused Obama of doing nothing to prevent the loss of the Philippines, a very important regional strategic partner.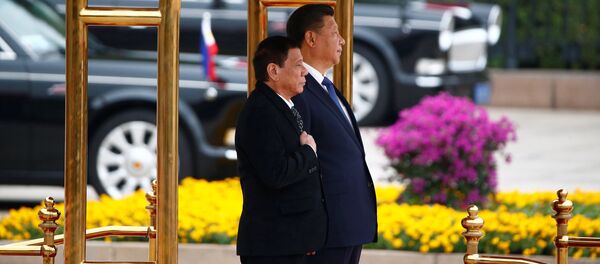 20 October 2016, 02:31 GMT
According to Trump, Russia and China may take the Philippines away from the US due to Obama's current foreign policy.
Commenting on this, Vladimir Yevseyev said that one of the important conditions of the Philippines shifting to Russia and China should be a real diversification of Manila's policy, because currently, the Philippines strongly depend on the US economy and Washington's assistance.
"If successful, such a policy of diversification will allow the Philippines to pursue a more balanced policy in choosing partners. It may [result in] Manila developing relations with both China and Russia," Yevseyev said.
It seems that China currently outperforms the United States in terms of the economic struggle for clout in the Philippines, he said, referring to the fact that Beijing and Manila had clinched bilateral deals worth a total of more than 13 billion dollars during Duerte's visit to Beijing.
"But this does not mean that the US will allow China to go far in collaboration with the Philippines. Washington will try to create serious obstacles to cooperation between Manila to Beijing which is why it's too early to speak of the Philippines fully shifting to a partnership with China," Yevseyev said.
He was echoed by Grigory Lokshin of the Moscow-based Far East Institute, who warned against jumping to conclusions even despite the fact that Manila has every reason to be dissatisfied with Washington's policy.
© REUTERS / Soe Zeya Tun
Chinese Premier Li Keqiang (L) and Philippine President Rodrigo Duterte (R) pose for photo during the ASEAN Plus Three Summit in Vientiane, Laos September 7, 2016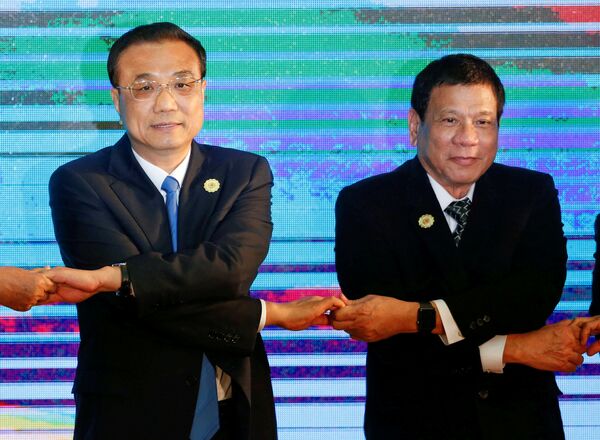 Chinese Premier Li Keqiang (L) and Philippine President Rodrigo Duterte (R) pose for photo during the ASEAN Plus Three Summit in Vientiane, Laos September 7, 2016
Lokshin recalled that while in China, Duterte talked about the "divorce" of the Philippines and the US, but upon returning home he said quite the opposite, namely, that Manila is not going to break any relationship with Washington.
"He said that his remarks in Beijing just reflected Manila's unwillingness to play the role of Washington's minor partner and were aimed at raising his country's political image. So we should wait and see further developments because it's too early to make any conclusions after Duterte's statements," he said.
Last Thursday, Duerte announced that he would be "separating" from the US to realign with China and Russia. "Your honors, in this venue, I announce my separation from the United States… both in military [terms], but also economics," Duterte said, speaking before Chinese officials during his official state visit to Beijing.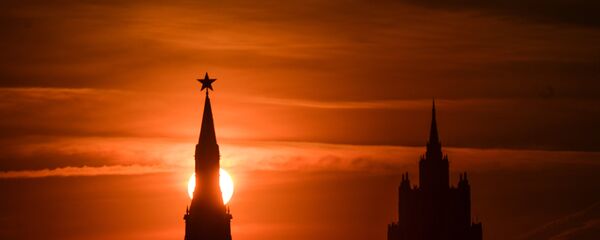 23 October 2016, 13:18 GMT
Two days later, he walked his words back a bit, insisting that his proposed geopolitical pivot is "not severance of ties" with Washington. "I said separation – what I was really saying was separation of foreign policy," the President stressed.
This isn't the first time Duterte has threatened to end the special relationship between Manila and Washington. Earlier this month, he warned that he was prepared to ask US forces to withdraw from some of their bases in the Philippines.
Before that, Duterte suggested that Manila would consider purchasing Russian and Chinese weapons if the US does not provide them.