Speaking to the Donetsk News Agency on Monday and citing DPR intelligence, Basurin said that the mercenaries and volunteer troops have occupied homes in the villages they're based in "despite the protests of local residents."
"Near the village of Shirokaya Balka, two km from the line of contact, two trucks arrived, carrying 40 Polish mercenaries," the military spokesman said. "In the area near the village of Verhnetoretskoe, four km from the front, the arrival of up to 100 personnel Right Sector volunteer corps has been observed," he added.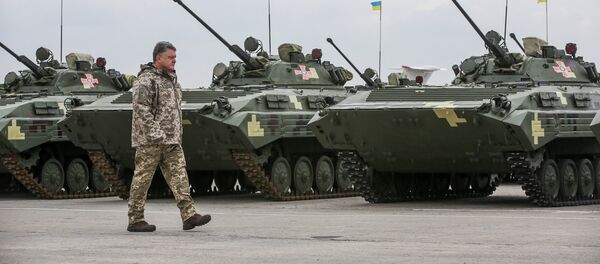 24 October 2016, 12:01 GMT
Also on Monday, Basurin reported that the Ukrainian army has placed heavy artillery, tanks and mortars in territories near the front line, including Kleban Byk, Gorlovka and outside the city of Donetsk.
Last Thursday, Basurin said that DPR intelligence had reported spotting eighty mercenaries, believed to be French and Italian, at the Kramatorsk airport, controlled by Kiev forces.
On October 15, human intelligence sources from the self-proclaimed Lugansk People's Republic reported the arrival of "several hundred" foreign mercenaries, believed to come from countries including the US, Canada, the Baltic states and Poland. The mercs were reported to have created three camps in the Ukrainian-controlled settlements of Bobrovskoye and Bobrovo, near Severodonetsk.
On October 12, it was reported that the Ukrainian military unsuccessfully attempted to break through militia positions near Mariupol, leaving fifteen foreign mercenaries dead and another 25 troops injured.
Last week, DPR parliament speaker Denis Pushilin said that Ukrainian forces near Mariupol have been conducting regular probing attacks using 'significant' forces. "In the event of a large-scale offensive, we will find the strength and means for an adequate counter-offensive," the official warned.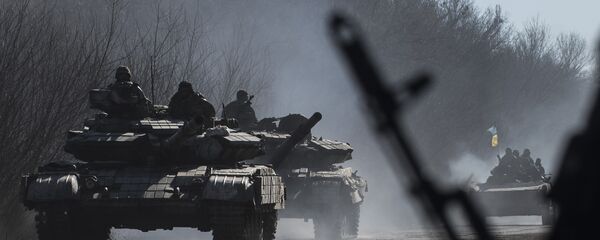 20 October 2016, 06:14 GMT
Late last month, observers from the OSCE's Special Monitoring Mission
confirmed spotting
Georgian-speaking mercenaries near the front line in Lugansk.
The civil war in eastern Ukraine began in April 2014, when Kiev moved the Ukrainian army into the restless regions of Donetsk and Lugansk, where local residents came out in opposition to new authorities taking power in the Maidan coup d'état in February of that year. Locals soon formed militia units, and the two sides engaged in a fratricidal war against one another until February 2015, when they agreed to a ceasefire deal in talks brokered by Russia, France, Germany and Ukraine in the Belarusian capital of Minsk. 
Since then, a shaky ceasefire has been in place, although violations are reported almost daily. Kiev has been accused of refusing to adhere to the Minsk Peace Plan, by attempting to see its provisions fulfilled out of order. The leaders of the fledgling Donbass republics, meanwhile, have repeatedly insisted that the agreement's thirteen points must be implemented in the order they were agreed to.