MOSCOW (Sputnik) — European companies will build ground infrastructure for the Nord Stream 2 gas pipeline in accordance with the European legislation, Deputy Chairman of Gazprom's Management Committee Alexander Medvedev said Wednesday.
"Ground infrastructure to transport gas from Nord Stream 2 will be built by the European companies in full compliance with the requirements of the EU energy, antitrust and environmental legislation," Medvedev said.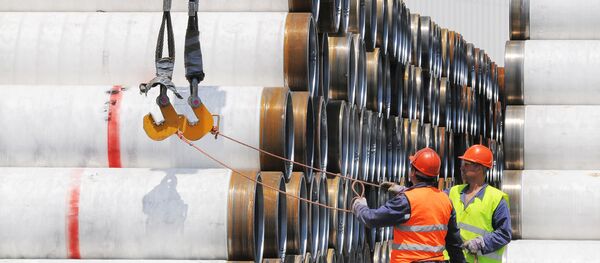 26 October 2016, 09:13 GMT
He added that the same five companies which started the project alongside Gazprom, BASF/Wintershall, ENGIE, Uniper, OMV and Shell, reiterated their support and intention to carry on with the project.
The Nord Stream 2 project is designed to deliver 55 billion cubic meters of Russian natural gas a year to the European Union across the Baltic Sea to Germany, bypassing Ukraine.
Returning to Original South Stream Project Off Table
The issue of returning to the South Stream pipeline project in its original configuration is irrelevant at the moment, Medvedev said.
"Given the broad interpretation of the EU Third Energy Package by Bulgaria, the question of returning to this project, especially in the configuration it was initially planned, is off the table today. At the moment Russia's efforts are focused on the implementation of the Turkish Stream project," he told the corporate magazine "Gazprom", answering the question whether it was possible to build a line to Bulgaria on the route of the South Stream instead of building the second line of the Turkish Stream.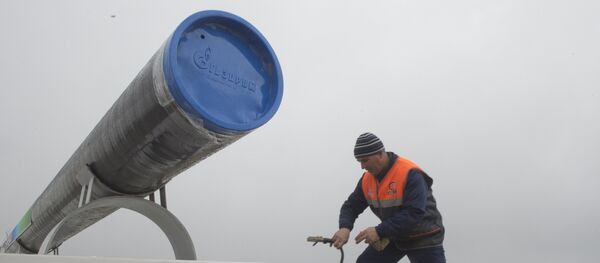 He stressed that the company took note of the Bulgarian desire to return to the implementation of the South Stream project. However, Gazprom suffered serious losses due to its partners' refusal of project realization, and, according to Medvedev, many issues related to the South Stream remained unsettled.
The South Stream project was suspended by Bulgaria at the request of the European Commission in June 2014 as it was deemed non-compliant with the European Union's Third Energy Package, which prohibits companies from both owning the gas and operating the pipeline. Russian President Vladimir Putin officially canceled the project in December 2014.
The Turkish Stream project was announced in late 2014 by Putin during his state visit to Turkey. In November 2015, the project was suspended after a Russian Su-24 aircraft was downed by a Turkish F-16 fighter in Syria. Pipe-laying work for the Turkish Stream will begin in 2017 and end in late 2019.