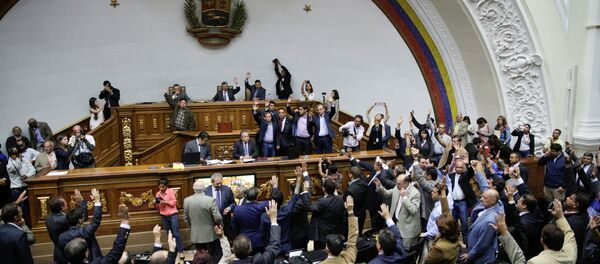 26 October 2016, 10:40 GMT
MEXICO CITY (Sputnik)
–
Opposition leader Henrique Capriles vowed a large-scale peaceful protest across the country later on Wednesday to reclaim Venezuela and defend the nation's right to a recall referendum.
The president's supporters promised to rally crowds of pro-government demonstrations in the capital city of Caracas and in each of the 23 states, according to the El Universal newspaper.
President Maduro accused the National Assembly of a coup and called a Defense Council meeting later today to assess the situation.
The opposition-led legislature voted on Tuesday to initiate impeachment proceedings against Maduro, claiming he had violated democracy. The Venezuelan foreign minister said the bid was unconstitutional.
Venezuelan opposition has been seeking a referendum to remove Maduro from office. The process to collect signatures for a petition on his recall was halted last week on accusations that the signature gathering was rigged.