MOSCOW (Sputnik) – The official reminded that Russian and Syrian planes have not been flying in the zone of a radius of 10 kilometers (6.2 miles) for nine days.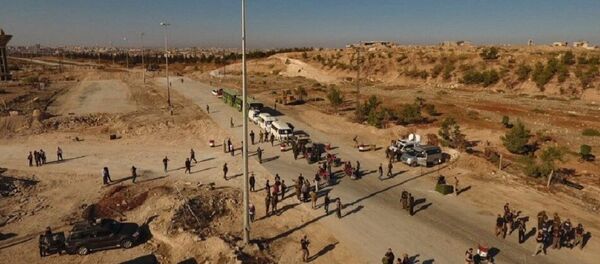 26 October 2016, 16:51 GMT
"Because of the sniper fire of the militants, another attempt of the Syrian authorities and the Russian reconciliation center to evacuate around 40 people from eastern districts of Aleppo to safe regions of the city was derailed," Konashenkov said, adding that the incident happened last night.
Fighting in the city of Aleppo intensified after the Syrian army declared an end to the week-long ceasefire on September 23, blaming militants for numerous violations that made the cessation of hostilities unreasonable.
On October 20, a humanitarian pause was introduced in the embattled city of Aleppo to ensure the safe evacuation of unarmed militants, and civilians from eastern Aleppo via eight designated corridors. However, Nusra Front, recently renamed as Jabhat Fatah al Sham, prevented civilians who wanted to flee the city, attacking people, during their attempts to leave Aleppo.
"However, the terrorists continue indiscriminately shelling residential districts of the city with makeshift rocket launchers, blocking the civilians leaving using humanitarian corridors."