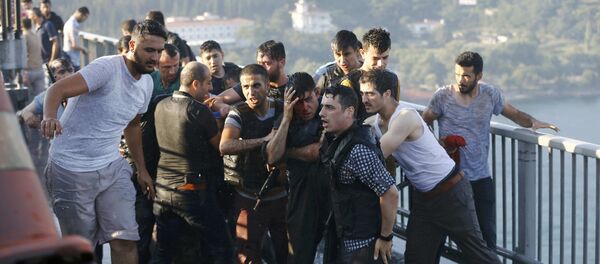 27 October 2016, 07:48 GMT
ANKARA (Sputnik) — Ankara provided relevant US authorities with evidence of the guilt of opposition Islamic cleric Fethullah Gulen, who is believed by Ankara to be the mastermind behind a recent failed coup attempt, that should be sufficient enough for his arrest, Turkish Justice Minister Bekir Bozdag said on Thursday.
"We have submitted sufficient even more than sufficient, evidences to have him [Gulen] detained," Bozdag said following talks with his US counterpart, Loretta Lynch, in Washington, as quoted by the Anadolu news agency.
He added that his visit to the United States is "the first time a Turkish justice minister visits a country for extradition of a criminal residing in that country" and warned that US courts should process the evidence before Gulen might flee the county and apply for asylum in another state.
On July 15, a military coup attempt took place in Turkey. More than 240 Turkish citizens were killed and over 2,000 people were injured, before the rebellion was suppressed the following day.
The Turkish authorities have accused dissident Islamic preacher Gulen of orchestrating the attempted coup and demanded his extradition from the United States, where Gulen has lived in self-imposed exile since 1999. Gulen himself has denounced the rebellion and declared his innocence.