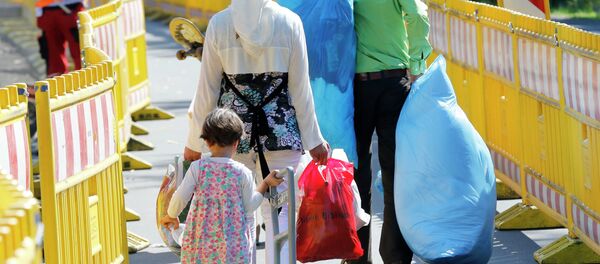 27 October 2016, 16:35 GMT
MOSCOW (Sputnik) — He noted that there was no data on how many of the refugee children in Greece and Italy were qualified under his amendment. "They have to be assessed, because some of them gone have family elsewhere in Europe, some of them have some family in Britain, and some will not have any family at all," Dubs added.
"The amendment does not just cover France, it is also cover Greece and Italy. I am urging the government, once the Calais situation is resolved, to start accepting refugees from those countries. We need to put more efforts into Greece and Italy, because, clearly, my amendment also covers unaccompanied child refugees in those two countries," Lord Alf Dubs said.
The United Kingdom is expected to accept from the French Calais camp a total of 600 unaccompanied migrant children, eligible for relocation under the landmark Dubs amendment to the Immigration Act and the Dublin Regulation that applies to minors who have family living in Britain, Lord Alf Dubs said.
"I think the idea is that Britain would take roughly half of the camp's children who are alone and French would take the other half. So we would take all together about 600, so it will be another 400 or so. That is a plan," Dubs said.
The first 200 children from Calais have already arrived in the United Kingdom from Calais camp after French authorities started to dismantle the so-called Jungle on Monday.
Dubs added that the process of accepting children from France had been slower than he had expected due to the procedural delays.

26 October 2016, 21:24 GMT
"They are coming and being processed but it has been rather slow. It is a process that takes a bit of time while each child assessed partly for age and partly for whether he qualifies for the amendment," he pointed out.
In March, the so-called Dubs amendment, aimed at allowing for the resettlement of unaccompanied refugee children from migrant centers in Europe to the United Kingdom, passed a vote in the House of Lords. Sponsored by Lord Dubs, who himself had come to the country as a child through the Kindertransport program that rescued Jewish children from Nazi Germany and Eastern Europe, the amendment failed to gain sufficient support in the House of Commons. Dubs later resubmitted the amendment, and it was eventually passed in May.
Europe is currently struggling to manage its biggest migration crisis since World War II. In the wake of the crisis, UK's previous Prime Minister David Cameron pledged that the country would accept 20,000 refugees from Syria by 2020.