MOSCOW (Sputnik) —Terrorists have opened fire 62 times from mortars and cannons, Lt. Gen. Sergei Rudskoy, chief of the Russian General Staff Main Operational Directorate, said.
"Over the past three days, terrorists have opened fire 62 times from mortars and so-called Hellfire cannons on areas in the western part of the city. The shelling killed 43 and wounded 96 civilians," Rudskoy said.
Russia invites international organizations to investigate the shelling of residential areas in Northern Syrian city of Aleppo carried out by militant groups, he said.
All eight humanitarian corridors set up in the Syrian city of Aleppo are open and operate around the clock, the General Staff said.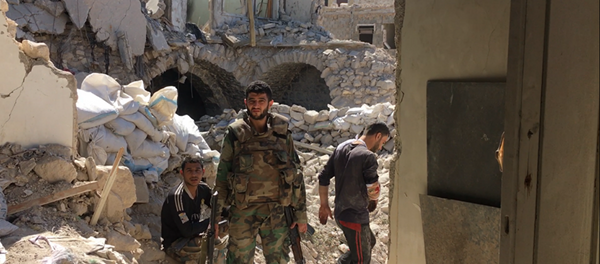 28 October 2016, 13:11 GMT
"The Russian reconciliation center together with the Aleppo administration are in talks with representatives of local authorities in the eastern part of the city, as well as with a number of armed groups on the evacuation of civilian population and the withdrawal of rebels from the areas under their control. All eight humanitarian corridors are open and running around the clock."
Ruskoy added that buses, ambulances are on duty near the corridors, which also have food and water supplies.
"All measures to stabilize the situation are being undertaken. We are ready to consider any proposals to improve the situation in Aleppo, including introduction of humanitarian pauses, but only in case they are not used by rebels to achieve their goals," Rudskoy said.
More than 34,000 civilians have returned to their homes in Syria, with the trend of returning refugees on the rise, he said. He specified that, as of early October, the heads of 163 inhabited areas have signed reconciliation agreements, bringing the total of these agreements to 857 areas.