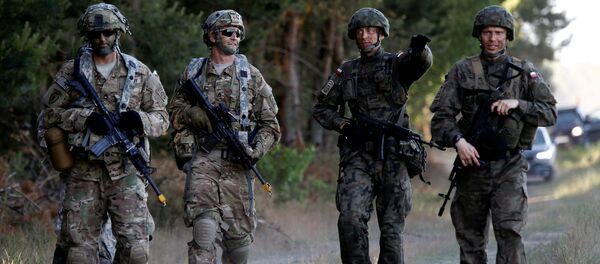 27 October 2016, 16:04 GMT
MOSCOW (Sputnik) – NATO continues "to strive for a more cooperative and constructive relationship" rather than hostility toward Russia, Stoltenberg told the BBC.
He noted that the planned deployment of 4,000 additional troops in Eastern Europe was aimed at prevention, not provocation, of a possible conflict.
"We have to do that based on collective defence – deterrence," Stoltenberg added.
On Wednesday, the defense ministers of NATO member states convened for a meeting in Brussels, Belgium to discuss bolstering defense on the bloc's eastern flank, in particular, the planned deployment of four multinational battalions in the Baltic States and Poland.
Since 2014, NATO has been building up its military presence in Europe, particularly in Eastern European countries bordering Russia, using Moscow's alleged interference in Ukraine as a pretext.